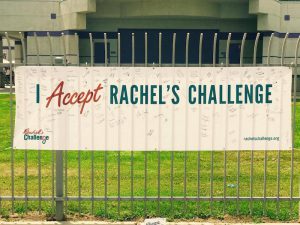 Submitted by Denair Unified School District
"Only kindness matters."
At its heart, that is the message delivered powerfully, emotionally and respectfully Tuesday to Denair students, their teachers and parents during a series of presentations known as Rachel's Challenge.
The nationwide program is a tribute to Rachel Scott, the first student killed on April 20, 1999, in the mass shooting at Columbine High School in Denver. Before she died, Rachel was a champion on her campus for forgiveness, love and compassion, often defending classmates who were bullied, taunted or teased by other students.
Though rooted in tragedy, Rachel's Challenge has become a force for teaching children and adults. Since it was started by her family, the program has reached more than 23 million people.
Tuesday, more than 500 middle and high school students listened intently to the 45-minute presentation in two sessions at school. Later that night, about 60 parents and community members also participated.
Superintendent Aaron Rosander first saw Rachel's Challenge a few years ago when he was superintendent in Mariposa County. He worked more than a year to bring it to Denair.
"I felt it was important for kids to understand civility and kindness and compassion never go out of style," he said, adding that he knows that "we have some kids who suffer silently."
Rachel believed the definition of compassion was "forgiving and loving," presenter David Hills explained. Though only a teenager, she wrote with maturity and clarity about her five-step approach to life:
Look for the best in others; eliminate prejudice.
Dream big
Choose positive influences
Speak with kindness
Start your own chain reaction of kindness
Continue reading "Denair Students, Staff and Community Members Inspired by Rachel's Challenge Program" »