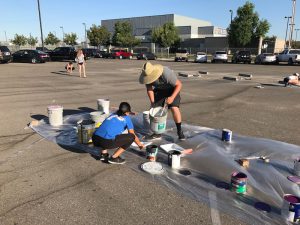 Submitted by Denair High School
Fourteen drab patches of blacktop at Denair High School were transformed Thursday into colorful personalized parking spots by a group of energetic seniors.
The students responded to an offer by Principal Kara Backman to all members of the Class of 2018. Seniors had to submit designs for preapproval by Backman and campus supervisor Melissa Treadwell. Having completed that process, Thursday morning was a time to paint, with an added bonus of an entire day away from class.
The school provided most of the paint, brushes and rollers, but students could bring their own colors.
Predictably, purple was a popular choice as the primary color or accent, though Courtney Prock's space is a bright pink (her favorite color) and Madison Keas' is orange (borrowed from the San Francisco Giants, plus her love of the Disney musical "Newsies.")
As far as themes, flowers were popular, as were Coyote paw prints, images of sports teams (football, volleyball, softball and baseball) and, of course, multiple references to the Class of 2018.
Bryson Prock's space includes an American flag and the words "My life depends on ag," a tribute to his family's roots, and his numbers from football (60) and baseball (9). Bryanna Suarez's spot highlights the word "Ohana," which means "family" in her Hawaiian heritage and reflects how she feels about her classmates. Hollie Collins' features her nickname ("Hillie Bean") in the middle of a daisy.  "People tell me I remind them of a daisy or a sun flower because I'm happy," she giggled.
Natalie Rosander also used a bloom – a sun flower – as the focal point of her parking spot. Above are the words "There's a big beautiful tomorrow" and below "shining at the end of every day."
Emilee Fanning found inspiration from an image of Winnie the Pooh on Pinterest. Her space is built around the cartoon character holding a heart balloon and includes the words "How lucky am I to have something that makes saying goodbye so hard."
Hannah Knox designed a grid of seven horizontal bars with the senior class's motto "Good vibes" in the middle. Cleverly, she substituted "1" and "8" for the "I" and "b" in "vibes." Now, all she needs is a car to park on her space. "Hopefully, this weekend, we'll find a Labor Day sale," she joked.
There's no confusing Blake Davis' spot. It includes his name along with images from his two sports – football and baseball – and a purple paw print.
Kloie Lum's space also reflects her favorite sport – softball. She used tape to outline the word "senior," in which she used a "1" and "8" (two softballs) to spell it. "I'm not really artistic," she admitted with a laugh.
While most of the spaces are connected, Jared Lessley's is near the exit from the parking lot. It's the same spot where he routinely parks his Dodge 4×4 pickup to make it easy for his younger sister – fifth-grader Lindsey – to spot him after school. They'll be no way for her to miss him now – his nickname "Jear" and "Bear" brackets a large bear's face.
Treadwell oversaw Thursday's painting project, which began about 8 a.m. with each student briskly brooming away dust and dirt from their chosen spots. She said the participating seniors will get to enjoy them for the rest of the school year … and that they'll be expected to paint them over next spring – just in time for members of the Class of 2019 to reserve and decorate their own personalized parking spaces.