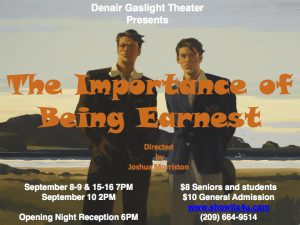 Submitted by Denair Gaslight Community Conservatory
The Importance of Being Earnest, a comedy for serious people, by Oscar Wilde, is coming to the Gaslight! First performed on February 14, 1895 at the St James's Theatre in London, it is a farcical comedy in which the protagonists maintain fictitious personas to escape burdensome social obligations. Now in 2017, The Gaslight Theater actors will bring the show to life once more in Denair, California!
"It's exciting to see our community coming together to produce high quality theater for all to enjoy," stated Anissa Stonebarger, Gaslight Board of Director's Treasurer. "We are looking forward to a successful run of the show! The director and cast have worked diligently to make this a classic production you won't soon forget", Stonebarger added.
The cast is made up of seasoned actors as well as individuals taking to the stage for the first time. Lenora Gomes, who portrays Lady Bracknell, is checking one more item off her bucket list. "Now is the time, and the Gaslight Theater is the perfect place. I am enjoying every minute!" Gomes commented. Sophie Kanabuy is no stranger to the Gaslight theater stage. She has performed in A Christmas Carol, End Game, and The Night No One Died. Sophie stated, "I'm allowed to push myself to find the character, and I love that!"
The cast is made up of 6 individuals, all of which would love to see you come out and see how they have developed their characters.
Show Times: September 8, 2017, opening night reception at 6:00 pm, show time 7:00pm, September 9, 15, and 16, show time 7:00 pm, and September 10 at 2:00pm. Senior and Student $8.00, General Admission $10.00. You may reserve tickets by going to www.showtix4u.com or call 209-664-9514.