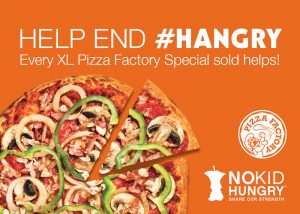 Submitted by No Kid Hungry
One in six kids in the United States struggles with hunger, meaning that instead of worrying about being a kid, they are worried about their next meal. To help reverse this statistic, Pizza Factory in Denair is partnering with No Kid Hungry, an organization that focuses on making sure kids are able to eat healthy food through programs such as school breakfast and summer meals.
For every special XL pizza sold during the month of September, the local Pizza Factory will donate $1 to the organization in an effort to help fight against child hunger. Pizza Factory is located at 4326 Main Street, in Denair, and is open Mondays through Saturdays from 11 a.m. to 9 p.m., and Sundays from 12 p.m. to 8 p.m.
Founded 30 years ago, Pizza Factory has become well known for serving fresh, high-quality pizza, sandwiches, salads and more. The brand is also widely recognized for its close community connection, which includes its iconic "No Bully Zone" program and impactful fundraising partnerships.
To learn more about Pizza Factory, please visit http://pizzafactory.com.