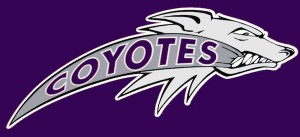 Submitted by Denair High School
Football is a physical game. It's all about size and strength combined with speed and leverage. The toughest guys don't always win, but their willingness to deliver and absorb hard hits certainly can set a tone for a team. Younger players, in particular, can be intimidated.
Just ask Denair coach Anthony Armas, a bruising former lineman who must walk a fine line during practice. He recognizes his inexperienced team must learn to be more physical. But with less than 20 players available and most playing both offense and defense, he also realizes that too much hitting during the week risks injuries that could leave the Coyotes at a disadvantage come game time.
Armas thought Denair was dominated in its 48-2 season-opening loss to Summerville. With a bye in Week 2, he and his coaching staff emphasized playing more physically in Saturday's game against Millennium.
Message received.
Denair won 27-24 thanks to big games from Blake Davis, Drew Pritchard and Steffin Winston – and by playing with more intensity, especially in blocking and tackling.
"Physically, we got tougher. I think Summerville took it to us," Armas said. "This week, I thought we took it to them (Millennium)."
The Coyotes' short roster prevents them from lots of hitting during the week. Instead, the coaches use heavy bags and tackling dummies to teach players about leverage and technique. But there is no substitute for live game experience when the adrenalin is flowing under the lights.
"We definitely got better, but there still are a lot of things we need to work on," assessed Armas.
Denair's three-headed attack of Hunter Musgrave, Dylan De Silva and Winston "all ran hard," according to Armas. Winston scored on two short runs in the second quarter as the Coyotes built a 13-6 halftime lead.
Pritchard, a junior quarterback, did a nice job directing the offense, which churned out 312 yards on the ground. And though he attempted just four passes, two of them went for touchdowns – both to the rangy Davis.
The first came in the third quarter when Davis hauled in a short pass, juked a defender and raced 81 yards down the sideline for a score.
After Millennium (0-2) scored to pull within 20-12, Pritchard and Davis hooked up for their second TD, this time from 8 yards.
Earlier in the game, Davis helped set up Winston's second TD when he blocked a punt and Denair recovered on the Millennium 15 yard line.
"I thought Blake played very well," Armas praised. "He's a good athlete."
Junior varsity game: Denair won 22-13. The Coyotes are 1-1.
 This week: Denair (1-1) will play its first home game when it hosts Stone Ridge Christian (1-1). The Knights are coming off a 40-0 victory over Riverbank last week. Kickoff is at 7 p.m. at Jack Lytton Stadium. It will be Youth Football Night and players from the Denair Youth Football team will be recognized.