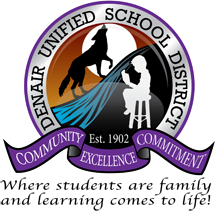 Submitted by Denair Unified School District
Testing procedures and analysis is about to go to a whole different level in the Denair Unified School District.
The goal, school trustees were told Thursday night, is to better understand student performance in order to create customized plans to address specific academic weaknesses. Parents soon will be receiving reports that chart their children's progress in four performance areas and include recommendations to help them improve.
"This assessment allows us to target specific skills that can be improved throughout the school year," explained David Naranjo, the district's senior director of student support services. "We can target the specific intervention by setting goals with students."
The testing program is part of the NWEA system, an international organization recognized for its student assessment systems. NWEA's results provide the national averages to which Denair students from kindergarten through 11th grade were compared.
The tests themselves cover four core subjects – math, reading, language usage and science. Each child is expected to complete them, including students in special education programs as well as those for whom English is a second language (starting this year, exams also will be given in Spanish). The tests are taken at the district's various computer labs; each subject takes about 50 minutes to complete.
The tests will be given three times a year, Naranjo explained, so performance can be measured and interventions introduced as necessary. The first tests were given in May. Those results were shared Thursday night.
High school principal Kara Backman said the initial analysis shows that Denair students "are generally strong in language use" across the district, but are "average" to "low average" in other subject areas.
For instance:
Elementary and middle school students struggled with the math test. At least 70% of all grade levels at Denair Elementary Charter Academy were rated "below average," including 87% of third-graders. At Denair Middle School, 78% of sixth-graders "below average," 76% of seventh-graders and 63% of eighth-graders.
At DECA, 91% of kindergartners were rated "below average" in reading, a statistic that includes the nearly 50 children enrolled in the campus' dual-immersion program. Many of those students speak Spanish at home, but took the test in English.
In science, about two-thirds of all students at DECA and DMS were "below average," though at Denair High School, about half of freshmen and sophomores were "average" or "above."
The vast majority of students performed at high levels in language arts, including 86% of high school juniors and, 80% of sophomores and 81% of seventh-graders.
Naranjo and Backman said administrators are analyzing test results and working with teachers to train them to create specific lessons for students who need extra help. That work will be integrated into normal classroom instruction.
Meetings will be scheduled with parents once they have received the written reports on their child's performance so individualized learning plans can be developed.
"We're taking the data, crunching the numbers and letting that drive our instruction," Backman said.
Added Naranjo: "It lets us know specifically where our work needs to happen. And it lets families know areas in which they can help."
In other action, trustees:
Agreed to change the date for homecoming at Denair High to Friday, Sept. 29 instead of Friday, Oct. 20. That will mean a minimum day schedule for high school students on Sept. 29. Robo calls will be made the next two weeks to alert parents in addition to other announcements.
Heard a report about the Thoughtful Classroom Teacher Effectiveness Evaluation Framework and Tool, which is being piloted this year. Naranjo told trustees that the goal is to create "a mutually respectful framework" to evaluate teachers. Key measurements include classroom culture, strategic instruction, personalized learning, lesson and unit design, and professional practice. Administrators formally observe teachers in class once or twice a year, Naranjo said, in addition to other informal evaluations. Student response to lessons also is factored into evaluations, he said.
Approved a new socio-emotional counseling position at Denair Elementary Charter Academy. It allows counselor Kara Binkley, who also teaches at Denair Charter Academy, to spend a half-day more per week on the elementary campus. She provides one-on-one as well as group counseling for students, helps them develop communications skills and set academic goals, and provides support during crisis situations.
Approved the final unaudited financial statement for the 2016-17 school year. Independent auditors will next review the information before the board formally closes the books in January.