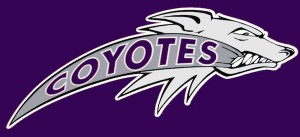 Submitted by Denair High School
Sometimes, especially with a group of young players like this year's Denair football team, improvement can't always be measured by wins and losses. Sometimes, statistical dominance can be misleading. Sometimes, progress requires closer analysis.
Such was the case with Friday night's 42-28 loss by Denair to Gustine – a game in which the Coyotes courageously fought despite being physically overpowered much of the time.
"We played better than we have all year," complimented coach Anthony Armas. "We still have a lot of things to fix, but we were much more physical."
Armas' analysis is based on Denair's grit and competitiveness. "The last couple of years, Gustine kind of bullied us and knocked us around. Not Friday."
Gustine still won most every battle in the trenches. The Redskins punished the Denair defense on the ground behind running backs Oliver Perez (20 carries, 173 yards, 3 TDs rushing, 1 receiving), Bryan Villalobos (18 carries, 177 yards, 1 TD) and Brandon Garbez (10 carries, 101 yards).
"They have a really big line and a couple of good backs," Armas acknowledged, adding that despite the numbers, he thought his defense showed courage. "They ran a lot of power plays against us, but I was proud of the way way we took on blocks. Our issue on defense is we have a lot of young kids who still are trying to understand our scheme."
In all, Gustine ran for 496 yards and averaged 9 yards a carry. The Reds (1-0 Southern League, 3-1 overall) also passed for 111 yards to pile up more than 600 yards in total offense.
But this is where stats can be deceptive.
Denair (0-1, 1-3) relied on big plays to offset Gustine's interior dominance. The Coyotes' shortest touchdown was a 30-yard run by Dylan De Silva in the second quarter that helped forge a 14-14 halftime tie.
Earlier, quarterback Drew Pritchard threw a short pass to Hunter Musgrave, who turned it into a 66-yard TD by racing through the Gustine defense. Musgrave also returned a kickoff 90 yards in the third quarter for another score.
And the biggest play might have been a perfect strike from Pritchard to Blake Davis on a post pattern with about a minute left in the game. The play went for 90 yards and a TD. After Steffin Winston's 2-point conversion run, Denair trailed 35-28.
Armas called for an onside kick, hoping Denair could recover and have a chance for the tying touchdown. Instead, Gustine recovered near midfield.
Unwilling to let Gustine run out the clock, Armas used his final two timeouts. On the third play, Gustine exploited a "crazy blitz" by Denair, found a gap and raced for the clinching touchdown.
"We had our chances. We've just got to take advantage of them," said Armas, referring to Denair being stopped at the 1-yard line early in the game and Pritchard overthrowing Davis for what would have been an 80-yard TD pass just before halftime.
"Our coaching staff thought we took a step forward," he said. "We've just got to keep getting better."
Junior varsity game: Denair defeated Gustine 8-7. The Coyotes are 1-0 in the Southern League and 2-1 overall.
This week: It's homecoming week, which is always fun for the campus and community. Denair (0-1, 1-3) will host Le Grand (0-1, 1-3). The Bulldogs are coming off a 42-0 loss to Waterford in their Southern League opener in what already has been a tumultuous season. Le Grand fired coach Raul Alvarez after the first game of the season and replaced him with Aaron Martinez. "I really don't know what to expect from them," Armas said.