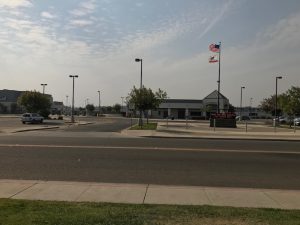 Submitted by Denair Unified School District
Officials in the Denair Unified School District moved quickly Wednesday to cancel athletic events and practices, modify recesses and move other activities indoors because of unhealthy levels of smoke in the air from the devastating fires in Sonoma and Napa counties.
At the high school, football practice was cancelled. At the middle school, a soccer tournament was postponed. And at all campuses, students were required to spend lunch breaks and recesses inside.
A strong north wind blew smoke from  more than 120 miles away into the valley, blanketing the sky with a layer of brown haze.
At 1 p.m., the San Joaquin Valley Air Pollution Control District website warned that fine particulate matter (PM2.5) in the Turlock area was 113 pg/m3. Air is considered "unhealthy for sensitive groups" (young children, seniors and those with asthma) when readings are between 36 and 55 pg/m3. All groups are at risk of breathing problems when readings exceed 75 pg/m3.
Schools officials decided by midmorning to keep students indoors for their safety. Children and staff were alerted via internal announcements; social media was used to communicate with parents and others in the community.