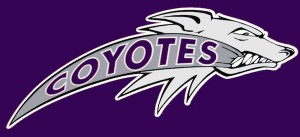 Submitted by Denair High School
Even in the best of conditions, it's tough enough trying to prepare for the best football team in the Southern League. Wednesday was not the best of conditions for the Denair Coyotes, who host unbeaten Orestimba on Friday night.
Strong north winds pushed a thick layer of smoke from the Napa and Sonora wildfires into the valley and sent air-quality readings into the unhealthy range. Taking no precautions, school officials in Denair and across the region appropriately cancelled outdoor events. Including football practice.
It clearly was the right decision. Everyone's health is more important than any one workout. But it added another hurdle into what already looms as one of Denair's biggest challenges – how to keep up with mighty Orestimba (6-0 overall, 3-0 in the SL).
Typically, Wednesday is the day Denair practices at night at Jack Lytton Stadium. That didn't happen.
"Usually, Wednesday is our best day of practice," said Coach Anthony Armas. "We're in the stadium, under the lights, in full pads. The guys like it."
Denair (2-4, 1-2) is coming off a 36-14 loss last week at Ripon Christian, another game that Armas feels like the Coyotes were physically overmatched.
"We get matchups with certain teams that just aren't good for us," he said. "RC is very big. That was kind of rough. Le Grand is more like us (referring to Denair's 63-20 victory two weeks ago)."
Orestimba will present more of the same size challenges. The Warriors also are skilled at many positions, plus they have nearly twice as many players on their roster as Denair. The Coyotes' 23-man roster is light on seniors (5) and relies heavily on sophomores (7) pulled up from the JV team.
"They're the best team in our league and have been the past couple of years," Armas said. "We're not going to do anything different. We'll prepare like every other team. We'll focus on us and how to get our offense better, and our defense and special teams."
Kickoff is at 7:30 p.m. at Jack Lytton Stadium.