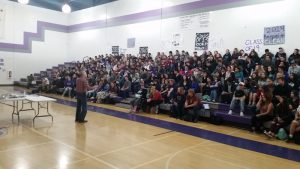 Submitted by Denair High School
Victor DeNoble's story reads like something out of a spy novel. Hired by cigarette maker Phillip Morris in the early '80s to find a heart-healthy replacement for nicotine, he soon discovered the lethal and powerfully addictive impacts of tobacco products via testing on rats.
Handcuffed by a confidential contract against sharing his knowledge, he eventually found a way to blow the whistle on the industry and testify before Congress, shattering decades of silence about one of the world's leading killers.
Beyond all the cloak-and-dagger details DeNoble shared Monday to Denair High School students was one all-important fact: Despite the sweeping changes in people's perceptions and knowledge about tobacco, it's still as dangerous as ever.
Worse yet, the industry – knowing long-term users are those most likely to die from their habit – appears to be using electronic cigarettes and vaping to target and ever younger demographic who aren't as aware of the risks.
"There are literally thousands of flavors," the fast-talking DeNoble told the attentive students. "And nicotine level has been lowered so they don't have to report it. But the danger is real."
DeNoble makes 350 to 400 appearances a year before students of all ages as well as other groups. He came to Denair on the invitation of the 25-member PHAST (Protecting Health and Slamming Tobacco) Club. Earlier Monday, he was at Beyer High School in Modesto
He punctuates his presentations with photos of the rats he tested three decades, colorful charts and graphs, and multiple props – including two human brains he says were permanently altered because by nicotine addiction.
It takes only weeks and months for users to become addicted, DeNoble said, but five to 10 years or more for most people to overcome their craving.
"Nicotine goes to part of the brain that controls drug addiction. We are wired for it. It's genetic," he explained. "You can't get rid of it."
DeNoble has appeared on many TV shows, including "60 Minutes" and "Dateline NBC." But he's most famous for his testimony before Congress in 1994, which revealed that the leaders of the Big 7 tobacco companies had known for decades their product not only was addictive, but that it was killing people.
Only weeks earlier, those same leaders swore under oath at a Congressional hearing that nicotine wasn't a drug or addictive.
DeNoble knew better. All his research showed conclusively that cigarettes not only were bad for the heart and lungs, but permanently altered users' brains.
"You can't feel your brain change," he said. "You don't know when you're learning something, but you know when you've learned it. You will not feel your brain change when you become a drug addict, but you'll know it.
DeNoble shared many unsettling facts with students:
Nicotine is delivered from the heart to the brain via the bloodstream in less than 7 seconds.
The 300 chemicals in tobacco form more than 4,000 when smoked. Most are unhealthy.
Water pipes, or hookahs, deliver the nicotine equivalent of 100 cigarettes in 20 minutes and the same tar as 20 cigarettes.
"Drug addiction is a self-inflicted disease," he warned. "It's a process in which an individual changes their own brain with a drug. And remember: Your brain doesn't know how drugs get in your system.
"Have fun with your life."
Denair Principal Kara Backman didn't want to guess about how many of her students may have tried tobacco. The campus is a no smoking area, but she's aware that many teens come from families with members who smoke or are exposed to smokeless products, which she believes is common.
Monday's presentation sets the stage for Red Ribbon Week next week, which will focus on other safety reminders for students – drugs, alcohol, texting while driving, and other important issues.