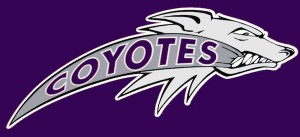 Submitted by Denair High School
Bigger, stronger, faster. It's a theme consistently repeated for most of the past month as a young Denair High football team tries to compete against larger, more experienced rosters in the Southern League.
Friday night's 58-20 home loss to unbeaten Orestimba was more of the same. The Coyotes showed flashes of potential and crisp execution, only to be undone by a blown assignment or other costly mistake.
"Our effort is not the problem," said Coach Anthony Armas. "Our defense will shut someone down for two of three plays, then give up a big play. We're just not consistent."
Orestimba is the defending Southern League champion. Its senior-laden roster is full of players who have the confidence that comes with that success. Still, scrappy Denair went toe-to-toe with the Warriors in the first quarter Friday, which ended in a scoreless tie and included a blocked punt by the Coyotes' Scott Badal.
But Orestimba (7-0 overall, 4-0 in league) quickly took control in the second period, scoring three touchdowns while controlling Denair's offense.
"They really took the run away, which is what we want to do," Armas said. "They were bringing a lot of heat. They had a big linebacker and some long guys on the edge who gave us some issues. They basically dared us to pass and that's not our offense."
That defensive pressure led to an Orestimba safety late in the quarter, giving the Warriors a 23-0 lead. But Orestimba muffed the ensuing Denair punt and Blake Davis recovered for the Coyotes (2-5, 1-3). A few plays later, quarterback Drew Pritchard escaped the rush and found Davis with a pretty 26-yard touchdown pass.
But Orestimba scored three more times in the third quarter and twice in the fourth to blow the game open and force a running clock.
The lone second-half highlights for Denair were two long kickoff returns for touchdowns by Hunter Musgrave – one for 88 yards and the other for 80 on the final play of the game
Junior varsity game: Orestimba shut out Denair 12-0. The Coyotes fell to 1-2 in league play and 2-3 overall.
This week: The Coyotes take to the road Friday to square off with rival Delhi (2-5, 0-4). "This is always a knockdown, drag-out fight," Armas said. "They'll stick a bunch of people in the box and dare us to throw it, just like everyone else. … They're in about the same situation as us when it comes to numbers, but they're our biggest rival so that doesn't really mean much."