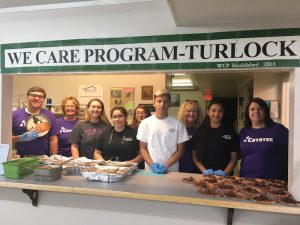 Submitted by Denair Charter Academy
Denair Charter Academy Principal David Naranjo believes education is more than what can be learned through inspiring teachers, transformative programs, amazing online lessons or even well-written books. There is a human component that transcends traditional classrooms and involves helping mold teens into good citizens.
Wednesday night's staff and student project feeding the homeless in Turlock was a perfect example.
School site counselor Sally Baker and teachers Jerrie Ogden, Greg Groll and Maureen Campos were joined by students Kyanna Roa, Tony Miranda, Ashley Pontillo and Karrin Weatherspoon at the We Care Program Turlock facility on Broadway Avenue.
Together, they served 55 meals to a group of homeless men. On the menu was chicken in cream sauce, pasta noodles, Caesar salad, rolls and milk. Dessert consisted of no bake cookies made by Ogden's culinary students at DCA.
"They were super hungry," said Baker. "They were very appreciative. They clapped for us."
Dinner took about an hour to serve, but Naranjo hopes the life lessons will last much longer.
"The importance is for the students to have an impact on the lives of others in our society," he said. "It's noting a need in the community and utilizing their skills to make a difference. It's understanding the commitment we have to each other."
The project was part of DCA's Love in Action Club, which includes eight students from the county's premier independent study campus. Baker has been the advisor for the past few years.
Teachers reached into their own pockets to raise the $125 to buy the food. Others on staff donated supplies or their time to help.
"I'm very impressed with the generosity of our staff," said Naranjo, in his first year as principal.
Previous student projects have included doing arts and crafts at various senior centers in the Turlock area or helping to bag and deliver groceries as part of the United Samaritans food program.
"We try to do something once a month," Baker said.
The next event is next Thursday. The Love in Action Club will organize a small carnival for the kindergarten through eighth-grade home-school students who only spend one day on campus. There will be a photo book, face painting and prizes.
The carnival is part of the district's celebration of Red Ribbon Week, a national campaign against drugs and unsafe behavior.