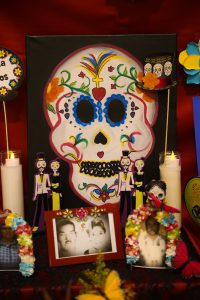 Submitted by Denair Elementary Charter Academy
For some students at Denair Elementary Charter Academy, Dia de los Muertos (Day of the Dead) already is an important part of their family culture. For hundreds of years , it has been a time for Latinos to honor friends and relatives who have passed away.
But for non-Latino DECA students, Wednesday was a learning experience, an opportunity to understand how others remember and celebrate loved ones who are no longer alive.
Dia de los Muertos occurs Nov. 1-2 each year. Though the timing is close, it is not the Latin version of Halloween. Artistic skulls often are part of the altars created at home or at cemeteries, but Dia de los Muertes is about family, not candy.
"It's a way to show love and respect for one's ancestors," said Bibiana Alonzo Sandoval, DECA's Spanish language lab instructor and one of the coordinators of Wednesday's event.
More than 500 kindergarten through fifth-graders were ushered into the DECA gym during the time they typically had either a physical education period or their twice-weekly Spanish class.
In the gym, teachers spoke about Dia de los Muertos in English and Spanish as part of a Power Point presentation. Five altars created by students were arrayed around the gym along with a mural of student artwork.
Sandoval and DECA learning director Laura Cardenas led students from altar to altar, taking time to explain the significance what was on display. There were photos of grandparents and others being remembered, along with other traditional items like marigolds, candles, paper skulls, cookies and various decorations.
In many Latin American countries, children who have died are celebrated on Nov. 1 while adults are remembered on Nov. 2.
It is the second year that DECA has included Dia de los Muertos as part of its lessons across all grade levels.
"This is a joyful tradition in Latin American countries that honors relatives who have passed away," said Principal Kelly Beard. "I believe it is important to help all children understand different cultures."