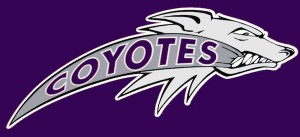 Submitted by Denair High School
Anthony Armas believes it's a very good sign that he had a number of football players who couldn't wait to hit the weight room Monday.
Even though their season ended Friday night.
As it was much of the fall, Denair was competitive in a 27-21 loss to Waterford. It was the Coyotes' fifth consecutive loss and dropped them to 2-8 overall and 1-6 in the Southern League.
But Armas thinks the experience gained by a very young team – which will lose only three senior starters – will pay off in 2018.
And it was those sophomores and juniors who led the charge into the weight room Monday.
"We have almost everybody coming back," Armas said. "We'll be bigger, faster and stronger with a year under their belt. This was our year where we took our lumps, but we have a lot of returning juniors and seniors who were starters."
Armas is not naïve about the nature of the competition. "Three of the teams from our league are in the playoffs," he said. But he also realizes if his players can correctly process and correct the mistakes they made this season, and gain weight and size, they have a chance to surprise some people next year.
Denair, it should be noted, is only one year removed from a magical 2016 season in which the Coyotes often had a 14-man roster, yet still made the playoffs.
Quick turnarounds are possible, especially with motivated players and coaches.
"I think the younger guys are ready to get after it," Armas said. "I had a couple of kids who said they want to win league next year. Our juniors this year won a lot when they were sophomores. Our backfield will be good."
Friday's game against Waterford (4-6, 3-4) followed a familiar pattern for Denair. The Coyotes were tied 7-7 at halftime, but a fumble inside the 20-yard line killed one promising drive and a couple of costly mistakes on defense allowed Waterford to score on two long pass plays.
"We were missing two of our starting defensive backs," Armas said. "Their quarterback was a good athlete. He scrambled, we lost track of a guy and he got behind us."
Still, the Coyotes didn't quit. They pulled to within 27-21 with less than 4 minutes left in the game on a lengthy TD pass from Drew Pritchard to Blake Davis. But Waterford ran most of the clock out before punting, giving Denair only about 20 seconds – with no timeouts – to mount a desperate comeback.
No luck.
"I think we saw growth this year," Armas said when asked how to assess the season. "We'll find out next year. We started doing things and figuring things out at end of year. Our offensive line started to pick up different blitz schemes, which was a problem most of the year.
"We scored some points. We started to get better on defense, but we still couldn't get off the field on third and fourth downs. Those are all things we can build on."
Junior varsity game: Denair defeated Waterford to finish 3-3 in league play and 4-4 overall.