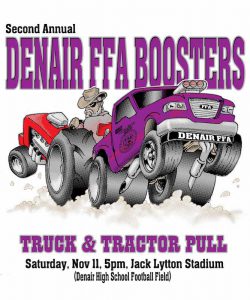 Submitted by Denair High School
It's loud, it's exciting and it's coming back to Denair on Saturday night.
It's the 2nd annual Denair FFA Boosters Tractor Pull, which begins at 5 p.m. at Jack Lytton Stadium.
Last year's event drew more than 1,000 people. They were thoroughly entertained by drivers from up and down the Central Valley.
Tractor pulls involve multiple classes of vehicles – from antique tractors to modified, high-horsepower versions to souped up 4×4 pickups. Each tractor or truck is hooked up to a weighted sled. The farther the sled is pulled, the more the weight moves toward the front – making it more difficult to pull.
Competitors are scored on how far they can pull the sled.
The event is sanctioned and organized by the Valley Tractor Pullers Association.
Most important of all – the event is the single-biggest fundraiser in support of the Denair High FFA program and its 150 students. Last year's event generated more than $20,000 – money that helps underwrite the entry costs for the county fair and other competitions, paid for four students to attend the national FFA convention in Indianapolis last month and will cover the cost of more teens to participate in the state convention in Anaheim next spring.
First-year ag teachers Taylor Doo, Nicole Hefner and John Hultgren also have big plans to renovate the school's on-campus ag facilities, include the student farm. Saturday's event will help with that.
"I'm told last year was phenomenal," Doo said. "I wasn't there, but the turnout was fantastic. There was a lot of community support."
She said two $1,500 sponsorships still are available. Those interested should call the Denair High office at 632-9911 by 4 p.m. Thursday. The school is closed Friday in honor of the Veterans Day holiday.
Tickets are $8 in advance or $10 at the door, and can be purchased from any FFA student.
There will be food and drinks available Saturday night. Also on sale will be wreaths created by students in the ag floral class, Christmas trees and pumpkins built in the ag mechanics and welding classes, and T-shirts designed by students in the ag leadership class.
Below is a short photo gallery from last years' event.