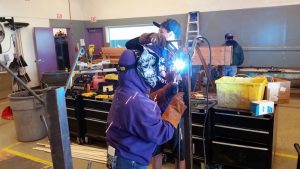 Submitted by Denair High School
Alexandria Sanders wants to be a veterinarian. Diana Soto can't wait to join her family's welding business. Isabella Libby dreams of being a forensic police investigator.
Classes all three girls are taking today at Denair High School not only are helping to prepare them for their potential careers, they are potentially earning the three teens credits to the colleges or vocational schools of their choice.
The career technical education (CTE) courses are part of four unique Pathways programs at Denair. Three Pathways are related to agriculture – ag welding, animal science and horticulture/plant science – and the fourth is criminal justice.
Well more than half of the school's students take one or more of the 18 Pathways classes that are offered. The instructors follow the syllabus and books used at Modesto Junior College, which provides academic oversight and offers two units of college credit for each class.
"It gives students an opportunity to pick a certain discipline they can explore early in their high school careers and, if they like it, hopefully pursue it later in college," said Cherie Gresham, Denair's college and guidance counselor.
Sanders, a senior, has taken Pathways classes in ag all four years at Denair. She's already been accepted at the University of the Pacific in Stockton and still has hopes of landing a spot in the veterinary program at the University of California, Davis. She expects to hear in March.
Friday, she was busy breaking down labels and analyzing the ingredients of various kinds of animal feed in Nicole Hefner's animal nutrition class. She's also enrolled in Hefner's ag leadership course and is actively involved in FFA.
"I think taking these classes shows colleges that I'm dedicated," Sanders said.
Hefner said there are multiple benefits for students beyond earning college credits.
"It's good that they can find out what they actually like," she said. "Ag is a broad industry. It's hard to know what you like the best. If they decide they like animal science, then they can study that in college. Or maybe it's business or some other area. Getting that exposure is important."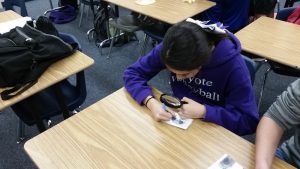 Soto, a junior, has a clear sense of her career path. Joining the family welding business is her goal. To that end, she's learning the basics in John Hultgren's ag welding class. Friday, she worked with a fellow student to assemble a batting helmet rack for the Denair High softball team.
"It's a big deal to my parents that I'm learning to weld," said Soto, the only girl in the class. "I like it. When I'm welding, I forget about all my problems."
Hultgren said many of the projects his beginning and advanced students work on are practical and find their way into use on one of Denair's campuses. In addition to the helmet rack, a softball bat rack also is about complete, as are security doors for the ag farm and sports equipment areas. Students also work on projects trailer hitches, tractors and other farm equipment.
"I told these guys that they have a big advantage," said Hultgren, who spent decades in the welding industry but never had access to such classes when he attended Livingston High 30 years ago. "We never had any material then. I used to work out of a scrap heap. That's how I learned."
Like Hultgren, criminal justice instructor Joe Esquivel brings real-world experience to his classroom. Esquivel worked as a police officer and detective for 30 years in Turlock before retiring and becoming a teacher 10 years ago.
There are 68 students in his four courses — administration of justice, crime scene investigation, criminal law and patrol procedures. He estimates than about 10% are serious about pursuing a career in law enforcement.
One of them is Libby. Though only a freshman, she said she is drawn to the scientific precision necessary for forensics. Friday, she and her classmates were practicing fingerprint techniques and analysis.
They used fine brushes to apply black powder — "Everyone is using too much," Esquivel said at one point – then applied special tape that lifted the print and transferred it to an index card. Finally, they peered through magnifying glasses to see if they could identify the 12 characteristics of a fingerprint needed to prove a match in court.
"It sure gives them a head start if they're thinking of entering the field," Esquivel said. "People who did the work are teaching. It's not theory. All of our CTE programs really show the tricks of the trade."
Denair Principal Kara Backman said the district is exploring adding Pathways in nursing, and hair care and cosmetology to "meet the needs of our students."
"CTE courses and career pathways add to the rigor of a high school classroom and allow students to be higher-level thinkers," Backman said. "It is our collective mission to prepare individuals in a small-school community through differentiation and strong relationships in order to achieve college, career and vocational success. CTE pathways are one way to meet this mission."