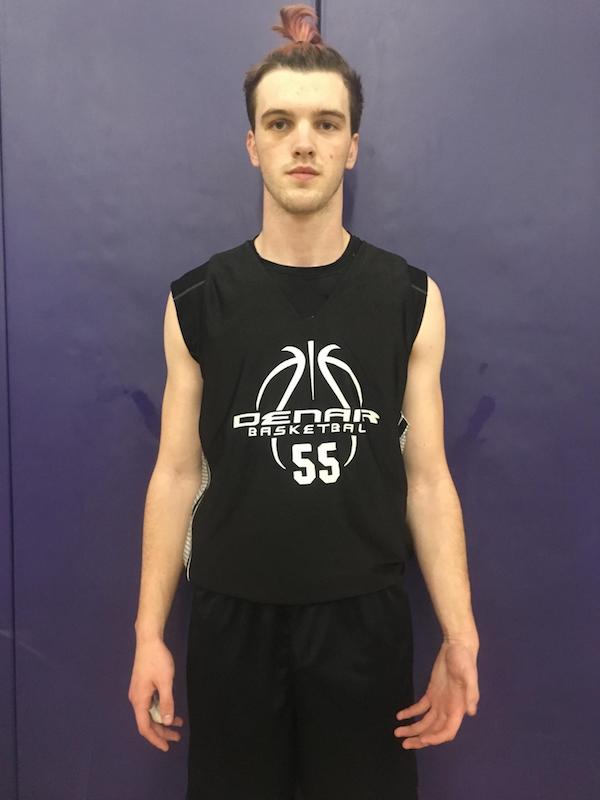 Submitted by Denair High School
Back in Black is a rock anthem made famous by AC/DC long before any of the players on this year's Denair High School boys basketball was born. But the title perfectly describes the scene that will happen tonight when the Coyotes – fresh off clinching their first playoff berth in seven seasons – return to their own gym to host Orestimba.
The atmosphere – like the classic song – should be rockin'.
Denair will forgo its traditional purple-and-white home uniforms to wear trendy black pants and jerseys on what is being billed as "Blackout Night." Students, too, can get into the act with specially designed black T-shirts featuring the words "The Pack" over the top of a Coyote paw.
Coach R.J. Henderson said it's the first time in his six years leading the team that he's broken out the black uniforms.
"They were purchased before I got here," he said. "We've never used them other than summer league. There are only nine of them. I thought about using them in years past, but we always had more than nine guys.
"The players are excited, I know. I expect the crowd on Friday could be our best ever."
The fresh look comes as enthusiasm continues to build for the young yet seemingly fearless Denair squad, which has rolled to an 8-2 Southern League record with two regular-season games to go. The Coyotes have clinched no worse than second place behind unbeaten Mariposa (10-0), which comes to town Monday night.
More importantly, Denair has qualified for the Sac-Joaquin Section Division V playoffs for the first time since 2010-11. The Coyotes will find out next Thursday who they play in the first round, which begins the next night.
Denair punched its ticket to the playoffs Tuesday night with a dominating 71-49 victory in Gustine. Junior Drew Pritchard led the way with 28 points, while senior Dylan Mann chipped in 15 and junior Steffin Winston had 12.
Just as special as anything Denair did on the court was something the Coyotes, at the urging of Pritchard, did to create a once-in-a-lifetime moment for one of Gustine's players.
The young man is a special education student who practices with the Reds, but rarely has a chance to play. Late in the game Tuesday, with the outcome already decided, the player got in the game. Denair's players, knowing the circumstances, allowed him to shoot until he scored.
The result was a thunderous roar from the Gustine crowd – impressed both by the young man's perseverance as well as Denair's sportsmanship.
The next day, Denair High Principal Kara Backman received a text message from a number she didn't recognize. Contained within the message was a video of the play where the young man scored along with heartfelt compliments and thanks from the Gustine staff.
"Kindness matters," an emotional Backman told Denair school board trustees at their meeting Thursday night. "It's something we teach our students at Denair. … I am so proud of them."