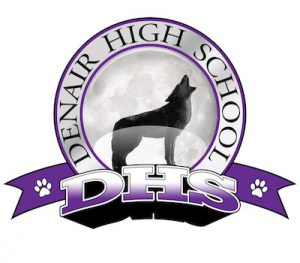 Submitted by Denair High School
The hard work invested by teachers and administrators to increase the quality and breadth of education at Denair High recently was recognized by independent evaluators with the longest accreditation any school can receive – six years.
The decision was announced in a Feb. 5 letter to Denair Principal Kara Backman from the Accrediting Commission for Schools of the Western Association of Schools and Colleges. The six-year accreditation period – instead of a shorter term – is a powerful endorsement of the strides taken just in the past two years at Denair High.
"The DHS community, which consisted of staff, students, parents and guardians, banded together to write a document over 100 pages about DHS," Backman said. "It was an 80-week process that produced a document about all of the rigorous academic and extracurricular activities we have to offer at DHS."
The WASC committee spent three days on campus last fall visiting classrooms, interviewing staff, evaluating programs and assessing the learning culture. As it does at every school, the committee was focused on asking and answering two key questions:
How do you know that all students are achieving based on your schoolwide student goals and academic standards?
Is the school doing everything possible to support high achievement for all its students?
Committee members found much to like at Denair. In particular, they cited these areas as strengths:
Areas to celebrate:
Revitalization of School Culture: They cited the behavior and happiness of students, the decrease in the rate of student suspensions and tardiness, and the satisfaction of teachers, measured in part by lower absenteeism.
Emphasis on Data-driven Instruction: In May, Denair High implemented a testing program from the Northwestern Evaluation Association that provides an earlier warning of students who may be falling behind in a particular subject. It is coupled with a Response to Intervention piece that provides additional academic and behavioral support to targeted students. In addition, the Pearson curriculum allows more data-driven assessment in core subjects like math and English.
Vision to Upgrade Technology and Blended Learning: Last year, the school added five Chromebook carts – each with 30 computers – that can be used in classes across campus. Students also have increased access to online textbooks, reflecting emphasis on blended learning.
Expanded CTE Program: Denair offers four Career Technical Education Pathways for its students to earn college credits – three in agriculture and the other in criminal justice. More than half the school's students take one or more of the 18 classes currently available. Backman said additional pathways could include nursing as well as hair care and cosmetology.
The WASC committee also encouraged Backman and her staff to continue to improve in these key areas:
College Readiness: Continue to increase the availability of college-prep math and technology courses, giving students access to STEM-based careers such as engineering and computer science.
Curriculum and Instruction: Administration should continue with their plans to adopt new curriculum that encourages collaborative student work, less teacher talk/more student voice, academic discourse and more depth of knowledge questioning of students by teachers. Depth of Knowledge 3&4 questioning. These efforts should be coordinated with the districtwide efforts toward vertical alignment.
Staff Stability and Retention: Stability among staff and administration is recognized as one of the keys to consistent programming and improving student outcomes.
Technology Development: Like all schools, Denair High is advised to develop one-, three- and five-year plans to better integrate all facets technology in the classroom.
Academic Proficiency: Use data-driven metrics to evaluate student achievement and the effectiveness of teacher training.
Backman said the WASC evaluation – while always stressful for her and her staff – provided important feedback and validation about the success of the steps implemented in the past two years at Denair High. She also views it as a springboard to continued improvement.
"It is an honor to receive a six-year WASC accreditation with a one-day, mid-cycle review," she said. "I am proud to be a part of this community and team."