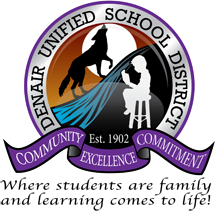 Submitted by Denair Unified School District
Citing the need to chart a "bold, new future," the Denair Unified School District Board of Trustees unveiled a plan Thursday night intended to confront chronic enrollment challenges and provide a reliable funding stream to increase teacher pay.
Board President Ray Prock Jr. read a three-page statement at the regular monthly board meeting that makes the case for a new charter covering all grade levels to create "a seamless academic progression" from kindergarten through high school.
Prock also laid the groundwork to ask district voters in November to pass a parcel tax of up to $100 annually. That money, he promised, would be used to "compensate our employees – our teachers, aides, specialists, campus supervisors, maintenance staff and others – at a level that is fair and competitive in the market."
Five years ago, facing financial crisis driven by the Great Recession and reduced state funding, Denair was forced to slash salaries for all employees up to 11%. Pay raises over the past two years have restored some, but not all, of employees' pay.
To pass, a parcel tax requires two-thirds approval from those who vote.
"For that reason," Prock said, "it is critical that the district provides its community stakeholders with all the relevant information for them to make an informed decision."
The board invited parents, staff and others in the community to collaborate on the district's new direction. Prock promised that there would be multiple focus groups and opportunities for people to participate and that the board would "actively and carefully listen in order to … gain your trust."
"Our goal, through these community interactions, is to identify practical steps that will stabilize enrollment trends and lead to enrollment growth at the middle school and high school," he said.
Denair has 1,272 students on its four campuses – Denair High School, Denair Middle School, Denair Elementary Charter Academy and Denair Charter Academy (which provides support and curriculum to home-school parents as well as independent study options for high school students.)
The popular DECA campus, which offers a dual-immersion English-Spanish path for some students, is bursting at the seams. It now has 557 students and will add two more classes of dual-immersion second-graders in the next school year.
The middle school – grades six through eight – has 232 students while Denair High has 261. Both have been trending downward since 2012, when the district had 1,559 students.
State dollars tied to enrollment represent the largest funding stream for any public school district. Declining enrollment, Superintendent Aaron Rosander has said on multiple occasions, is a no-win proposition.
The charter proposal described by Prock on Thursday night aims to build upon the district's strengths, which include strong academic, language and arts elements at DECA, a college-going culture on all campuses and Career Technical Education Pathways in agriculture and criminal justice at Denair High.
A new charter, Prock said, "would integrate pathways such as world languages and agriculture at every grade level" and allow students to receive "hands-on instruction from our staff, in-the-field experience, and access to instructional materials and lessons via computer."
The prospect of writing a K-12 charter comes at the same time the district is actively searching for a new superintendent. Rosander announced last month that he will leave after his contract expires at the end of June.
Two weeks ago, the board hired McPherson & Jacobson to lead the recruitment effort. The cost will be between $8,500 and $13,650, paid for by so-called "one-time funds" received and saved over the past few years from the state.
In other action Thursday, trustees:
Congratulated Denair High Principal Kara Backman and her staff after they were notified this week that the campus received a six-year accreditation from the Western Association of Schools and Colleges. It is the longest accreditation that any school can receive.
Accepted a $125,000 Career Technical Education Incentive Grant from the state. It will help support the ag and criminal justice programs at the high school.
Voted to extend health coverage to Rosander until he reaches age 65, unless he takes another job.
Approved a resolution asking the state Legislature to fund California schools at or above the national average by 2020. California ranks 41st nationally in spending per pupil, about $1,900 below the national average. The state also serves the most English learners and special education students in the United States.