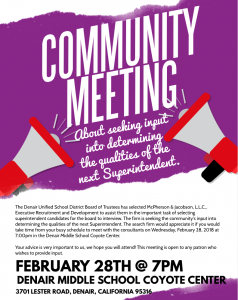 Submitted by Denair Unified School District
The Denair Unified School District Board of Trustees has selected McPherson & Jacobson, L.L.C., Executive Recruitment and Development to assist them in the important task of selecting superintendent candidates for the board to interview.
The firm is seeking the community's input into determining the qualities of the next Superintendent. The search firm would appreciate it if you would take time from your busy schedule to meet with the consultants on Wednesday, February 28, 2018, at 7:00 pm, in the Denair Middle School Coyote Center.
Your advice is very important to us, we hope you will attend! This meeting is open to any patron who wishes to provide input.