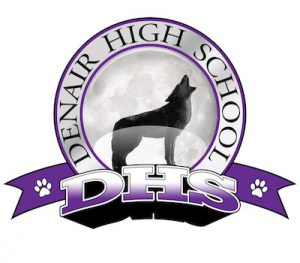 Submitted by Denair High School
The Denair High School boys basketball will open the Sac-Joaquin Section Division V playoffs Wednesday night in Tuolumne City against Summerville. Tipoff is at 7 p.m.
It is the first time the Coyotes (13-12 overall) have qualified for postseason since 2010-11. Denair finished second in the Southern League with a 9-3 record, losing only to league champion Mariposa (twice) and third-place finisher Le Grand.
"Our goal was to play an extra game in February," said Denair Coach R.J. Henderson. "I thought this group had an opportunity. We have a good mix."
The Coyotes are seeded 11th in the 13-team Division V bracket; the Bears are No. 6. The winner will advance to play No. 3 seed Brookside Christian in Stockton on Feb. 23.
Denair has a little bit of history against Summerville (15-11), which finished fourth in the rugged Mother Lode League. The two teams squared off on Dec. 1 in the Riverbank Tournament, with the Bears coming away with a 44-30 victory.
"Our kids obviously have seen their kids. We didn't shoot it very well that night," Henderson said. "They're a plodding team; very strong inside. They're bigger across the board. They were able to dominate on the offensive glass that night though they didn't shoot it well either."
The Coyotes have made great since December. With only two seniors on their nine-man roster, the experience the younger players have gained has boosted their confidence – and it shows in the results. Denair was 4-9 in the preseason, but began to apply some hard-earned lessons when the league schedule began in January.
Led by first-team all-SL players Drew Pritchard (15.2 points per game) and Steffin Winston (15.1 ppg, 11.6 rebounds per game), the Coyotes held their own the first time through the league, then caught fire and won five out of their final six games.
"They're definitely peaking at the right time," Henderson said of his players. "We're not a nervy bunch of kids. I think some of them actually play better on the road."
He expects Denair will travel well next week with at least one rooters' bus already scheduled to take excited students to Summerville. But beating the Bears will take more than full-throated fan support.
"They have two big 6-foot-4 lefties. They look like a football team out there, but they play basketball," Henderson said. "I do think it's the best matchup for us. … It's a tough task, but it will be fun. It's nice to have a couple of days of practice ahead of time."
Henderson said it's no secret what the Coyotes need to do Wednesday to pull off an upset.
"We have to limit them to one shot and we're going to have to make shots. We'll have to hit eight to 10 threes this game," he said. "Our guards are going to have to shoot real well. … Our kids are excited. We want to get greedy and play another game."