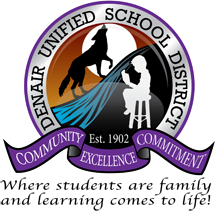 Denair Unified School District trustees heard an update Wednesday night from the consulting firm leading the search for a new superintendent. The current superintendent, Aaron Rosander, announced in February he will leave the district at the end of June after 4½ years.
In late February, a representative from McPherson & Jacobson held stakeholder meetings with 72 people representing community members, students, teachers, classified staff, administrators and parents. Each participant was asked to respond to four questions:
What are the good things about your community?
What are the good things about your schools?
What issues should the superintendent be aware of as he/she comes into the district?
What skills, qualities or characteristics should the new superintendent possess to be successful here?
Respondents to the first two questions frequently mentioned the tight-knit nature of the Denair community and its bond with the school district. Many referred to the relationship as reflecting the closeness of a "family" and believe the bond formed through generations of Denair residents is an important asset.
In terms of key issues the new superintendent should understand, enrollment – particularly at Denair High School and Denair Middle School – was a common theme. Both campuses have seen fewer students in recent years, offsetting consistent growth at Denair Elementary Charter Academy.
Teachers cited complete salary restoration after pay cuts were imposed in 2013 as well as what they view as a high turnover rate among teachers as well as administrators.
Some in the community expressed concern that the new superintendent will be at a disadvantage because he or she is not available now to help guide the Board of Trustees' decision to write a new charter for the district as well as seek a parcel tax, which would provide money for salary increases.
As far as key characteristics of a new leader, people believe the superintendent should be a strong communicator and good listener, be a visible member of the community, be honest and transparent, have strong people skills, have experience with budgets, show compassion and always put students first.
The community meetings were the first step in a process that the board hopes will lead to the selection of a new superintendent by early May. The deadline to apply is March 22.
The five trustees – with input from McPherson & Jacobson – will winnow down the list to finalists at a special board meeting April 9. A 10-member panel of community members and employees will interview the finalists and provide input to the board. Trustees will hold interviews April 14-15.
An announcement is expected by May 10, with the new superintendent in place by July 1.
In other action Wednesday night, the board:
Approved a second interim budget estimate that shows the district will end the year with a cash balance of more than $3.5 million, though it still is on track to have as many as 44 fewer students than a year ago. Most of the decline has come at Denair High School and Denair Middle School. Chief Business Officer Linda Covello also told trustees that rising pension costs continue to challenge the district. She estimated that contributions to CalSTRS (teachers) and CalPERS (classified staff) will cost the district an additional $151,000 this year.
Approved a one-time payout of 6.75% of their 2017-18 to all employees represented by the California School Employees Association. Covello said the percentage is made up of a 1.56% cost of living increase and 5.2% in salary restoration from cuts made in 2013. The CSEA represents 76 non-teachers in the district. Negotiations continue with the Denair Unified Teachers Association.