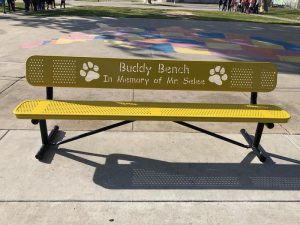 Submitted by Denair Unified School District
Mark Selee was known for the special bond he formed with students at Denair Elementary Charter Academy. Not only was he a popular fourth-grade teacher, he also was a frequent presence on the playground, often joining basketball games or other activities with youngsters. He promoted inclusion, interaction and respect among students.
All of which makes the memorial bench recently dedicated in Selee's honor so appropriate. Known as a "buddy bench," it is a way to promote kindness and foster friendships on the playground.
"If someone is sitting on the bench, they want to be included in whatever is happening," explained DECA Principal Kelly Beard at Thursday's monthly Denair Unified Board of Trustees meeting.
Selee's sudden death from a heart attack during Thanksgiving break in 2015 rocked the DECA campus and the saddened the Denair community. But the memory of his energetic, positive presence remains for his peers as well as some of the students who were first- and second-graders then.
The bench installed Monday provides a tangible way for all to carry out Selee's legacy. It is on the third-, fourth- and fifth-grade playground. It has Coyote paw prints, but rather that sport a shade of purple like most items on campus, the bench is painted in gold and black – the colors of Selee's favorite professional sports teams from Pittsburgh (Pirates, Steelers and Penguins).
"As a staff, we decided we wanted it those colors," Beard said.
A second memorial bench for Selee is on order, she said. In addition, there is a memorial plaque for Selee in the gym. "Some of our teachers touch it every time they walk in," Beard said.
DECA also has a memorial bench for a former student on its kindergarten playground.
In other action Thursday night, the board:
Heard a budget update that estimates the district will end the year with a cash balance of more than $3.5 million, but still is on track to have as many as 44 fewer students than a year ago. Most of the decline has come at Denair High School and Denair Middle School. Chief Business Officer Linda Covello also told trustees that rising pension costs continue to challenge the district. She estimated that contributions to CalSTRS (teachers) and CalPERS (classified staff) will cost the district an additional $151,000 this year.
Unanimously approved a contract for $237,102 with Stanislaus County Office of Education for business and human resources services, early childhood education training for teachers, special education and health services, instructional support services, college and career planning, outdoor education, student wellness and school safety, technology and learning services.
Voted 5-0 to approve school calendars for the next two years. In 2018-19, school will start Wednesday, Aug. 8 at all campuses. Winter break will be Friday, Dec. 21 through Friday Jan. 4. Spring break will be Friday, April 19 through Friday April 26. And high school graduation will be Friday, May 24.
Approved a trip for FFA students later this spring to the 90th annual Leadership Conference on April 22-25 in Anaheim. High school students will be exposed to workshops and seminars on eight ag-related careers, hear from speakers, take tours and meet other future leaders. They also get to go to the nearby Disney California Adventure.