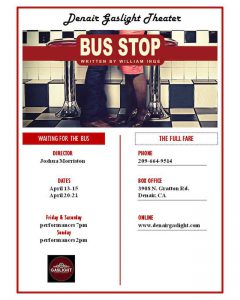 Submitted by Denair Gaslight Community Conservatory
The Gaslight Theater has an upcoming theatrical production titled Bus Stop.  The 1956 film starring Marilyn Monroe was based off of this play.
In the middle of a howling snowstorm, a bus out of Kansas City pulls up at a small roadside diner. All roads are blocked, and the weary travelers on board have to take refuge in the diner until morning. Cherie, a nightclub singer, has the most to worry about. She's being pursued by "a young cowboy with all the romantic finesse of a rodeo bull." The belligerent cowhand is right behind her, ready to sling her over his shoulder and carry her, alive and kicking, all the way to Montana. As a counterpoint to the main romance, the proprietor of the cafe and the bus driver who have previously only spent time in passing, find time to develop a friendship of their own; a middle-age scholar comes to terms with himself; and a young girl who works in the cafe also gets her first taste of romance.
Show times are April 13, 14, 20 and 21, 2018 at 07:00 pm, and a matinée on April 15, 2018 at 2:00 pm. This show is rated PG-13.
General admission is $10, seniors and students are $8. Tickets may be purchased at showtix4u.com or by calling (209) 664-9541. For more information about the show please go to www.denairgaslight.com.
Denair Gaslight Theater is located at 3908 N. Gratton, Denair, CA 95316.