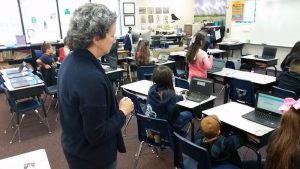 Submitted by Denair Unified School District
Technology permeates every classroom in the Denair Unified School District. It's not a matter of if teachers and students will incorporate computer-based instruction as part of everyday learning, but how they will do it.
From the earliest grades at Denair Elementary Charter Academy to middle and high school students across the street and across all subject areas, access to technology is an expectation, not a luxury.
Every Denair student at every grade level has a district email account and access to Google Drive that allows them to log in in every class. They also can sign into their account from home to work on projects or complete homework.
"These kids have grown up with technology in their hands, unlike any other generation before them," said Mark Ranes, a former teacher who is now the district's technology director. "Most were using mobile devices before they could write. They are wired differently than us adults.
"We've reached a point in education where we are no longer teaching 'technology' to students; we're teaching them to use technology to learn."
The district has invested heavily to get to this point. This year, it used nearly $300,000 in state funding saved over several years to add 18 Chromebook carts to its tech arsenal. The portable carts can be moved from class to class. Each contains up to 30 Dell Chromebook computers with charging stations.
The new computers brought the district's number of carts to 20, with another five in the pipeline for next year. Eventually, Ranes said, each student is likely to be assigned his or her own computer.
Demand has been tremendous across the four campuses – DECA, Denair Middle School, Denair High School and Denair Charter Academy. The rollout was delayed until the district could upgrade its wireless network last fall. Once that was completed, the computer floodgates opened.
"We were asked on pretty much a weekly basis when they were coming to the sites," Ranes said. "We didn't want to let them out in the wild until I was sure the network could handle 450 new devices."
Teachers have been given training to help them take full advantage of the vast potential of computer learning. Many already were highly skilled in blending technology into their lessons, but Chromebooks gave them an even wider palette from which to choose.
"I'm a tech person, so I think kids should be on the computer anyway. Some teachers are less comfortable," said DECA third-grade teacher Lisa Brugger, a 20-year veteran in Denair. "It's just another tool. I think some things are more engaging to the students on the Chromebooks. I can see it working with any subject."
Brugger's focus is on improving her students' reading, math and writing skills. Chromebooks give her access to Read Works, where students can read and take spelling lessons as well as listen to recordings of Brugger narrating stories. She also uses Khan Academy videos to teach math fundamentals.
And though all the new technology may reach students on a level they're familiar with, learning – and not play – remains the goal.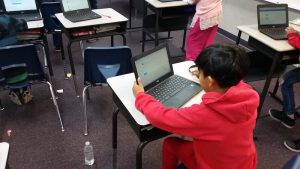 "The way we use Chromebooks is more brain-engaged and less game-based," Brugger explained.
In addition to specific learning programs, students use the Chromebooks to access a suite of Google Classroom documents, create Slides presentations, take mandatory tests, read books online, watch videos and work on group projects from separate screens. The possibilities seemingly are endless.
Teachers, meanwhile, can be at their desk and "virtually" check on every student's progress in an online assignment.
Gina Michael, an eighth-grade history teacher at DMS, was one of the instructors who piloted the Chromebook demos last year. Recently, she gave her class an assignment related to African-American history in the 1850s. Students used Chromebooks to read a chapter and then had to use Google Slides to report on a specific aspect of what they learned.
"We use this in math, English, science … pretty much all our classes," said student Kenny Grinolds.
As Grinolds was typing his assignment, Michael could monitor what he was doing. "I can give them feedback right away," she said.
Michael uses a fun game show-like testing program called Kahoot. It requires a personal identification number for each student, offers timed multiple-choice exam options and automatically generates assessment reports.
"The kids like it," she said.
DMS Principal Brian LaFountain is a huge proponent of technology in the classroom. And he cautions that no computer – no matter how sophisticated – can replace a quality teacher.
"We emphasize to use it as a tool and not a toy," he said. "Every teacher worries about where the students will be with tech. But the truth is, the students have surpassed us. The trick is keeping up with them."