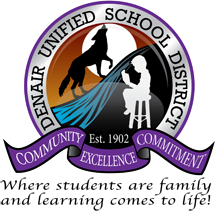 Submitted by Denair Unified School District
The Denair Unified School District board narrowed the list of applicants to become the next superintendent to four finalists at a special meeting Monday night.
Trustees also announced the names of nine employees and community members who will participate in two days of interviews this weekend that will lead to the selection of the next superintendent.
The board's search for a replacement for Aaron Rosander has been guided by consultants from McPherson & Jacobson, who helped trustees winnow a list of 21 applicants to the final four. Rosander announced in February he will leave the district at the end of June after 4½ years.
Chief Business Officer Linda Covello, the district's lead official for the search, said applications were received from educators in Stanislaus County, other parts of California and outside the state.
Two finalists will interview with trustees as well as the stakeholder committee on Saturday and two more will do the same on Sunday. The meetings are not open to the public.
The members of the stakeholder committee are student Adrianna Snyder, community member Dennis Findley, classified employee Gayle Schell, teacher Deborah Voss, Senior Director David Naranjo, Denair High Principal Kara Backman, and parents Gerardo Retana, John Greff, Cheryl Rice and Leticia Christen.
The committee will provide input and insight about the finalists to trustees, who expect to decide on a new superintendent Sunday night. Once that choice is made, McPherson & Jacobson will conduct a final round of background checks before an offer is extended.
That person is expected to be introduced at the May 10 board meeting, with the new superintendent in place by July 1.