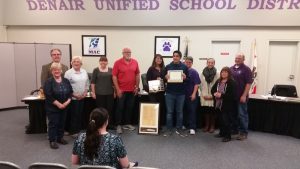 Submitted by Denair Unified School District
Even as the search for a new superintendent enters its final stage, the current leader of the Denair Unified School District reminded the community Thursday night not to become complacent about the financial progress that has been made in the past four years.
Aaron Rosander, the man hired in 2014 to engineer the district's turnaround from the brink of fiscal crisis, will retire at the end of this year. His replacement has been chosen, though he or she is not expected to be publicly introduced until the May 10 Board of Trustees meeting.
The new superintendent will inherit a district that has made significant progress to earn back public trust by restoring financial stability and improving classroom results. But crucial work remains, according to Rosander.
Enrollment at the high school and middle school must begin to grow again, innovative new educational programs must be introduced and employee salaries must be fully restored after deep cuts enacted in 2013.
The key, he believes, is a two-pronged strategy unveiled two months ago: creation of a new charter concept to cover "seamless academic progression" from kindergarten through high school coupled with voter approval of a small parcel tax to provide necessary revenue.
Rosander shared with trustees Thursday night a financial review from the Stanislaus County Office of Education that expressed concern "about our enrollment … as it relates to our ongoing financial condition."
He called Denair's budget situation "balanced but fragile" and urged the district to "respond to our circumstance by embracing viable initiatives that will increase and sustain … revenue."
Rosander's replacement will no doubt play a pivotal role in galvanizing public support for the proposals.
Board President Ray Prock Jr. said an offer has been made to one of the four finalists, all of whom participated in lengthy interviews last weekend with trustees as well as a 10-member stakeholders committee.
"We are currently working out contract details as well as performing standard background checks," Prock said.
The new superintendent will begin work July 1.
In other action Thursday, trustees:
Unanimously approved a 0.25 percent pay raise for all employees retroactive to July 1, 2017. It continues salary restoration efforts. Teachers and administrators took 8% pay cuts in 2013; they have had 5.25% restored. Classified staff took a 12.75% pay cut; they have had 7.55% restored. Combined, the raises will cost the district $23,583 this year.
Approved creation of a grade 7 through grade 12 transcript that will reflect classes taken in middle school that put students on a college-prep path. High school Principal Kara Backman said showing all courses completed improves students' chances of being accepted into college.
Agreed to change the Denair Middle School schedule so it is identical to that of Denair High School. It will allow more middle school students to take high school courses. At both campuses, class will begin at 8 a.m. and school will let out at 2:45 p.m.
Voted 4-1, with Kathi Dunham-Filson dissenting, to allow one administrator to attend a leadership conference June 19-21 in Cincinnati at a cost of $2,200. The initial proposal was for three employees to attend, but it was denied on a 3-2 vote.
Recognized five DMS students, including eighth-grader Colin Bethishou (grand prize winner, $250 scholarship), for their performance in a countywide North Valley Constitution Essay competition. Denair swept the top four spots. Others honored were Mariana Verduzco (first place, $150), Navaeh Ortiz (second place, $100) and Leilani Larios (third place, $50).
Passed a resolution asking the state Legislature to allocate for money for school safety, including fencing and other security measures, mental health and counseling services for students, and training for staff. The request was inspired by multiple school shootings across the country, including earlier this year in Parkland, Fla.