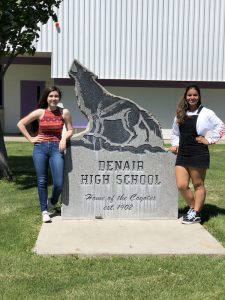 Submitted by Denair High School
Daisy Lopez is the Denair High School Class of 2018 valedictorian thanks to her 4.16 grade-point average. The salutatorian will be Hannah Knox, who compiled a 4.11 GPA in her four years. Both young women aspire to become veterinarians.
The graduation ceremony will be Friday, May 25 beginning at 7:30 p.m. at Jack Lytton Stadium. Gates open at 6 p.m. Tickets are not required.
After students receive their diplomas, there will be a Sober Grad Night party in the gym.
Lopez and Knox recently took time to answer 10 questions about their high school experiences.
Question: What are the key things other students should know about your academic success and how you achieved it?
Lopez: Keeping myself motivated and aware of the goals I wanted to achieve helped me continue working hard throughout my academic years at Denair High School. Also, enrolling in honors and AP classes really helped expose me to new and challenging material.
Knox:Always try to push yourself, but know your breaking point. I pushed myself too hard and it ended up backfiring for me. Also, good grades just don't happen for most, so if you want a good grade, you have to go that extra mile in every assignment and every test. It's always better to do more. I made this my philosophy when I came into high school and it really prepared me for honors and AP classes.
Q: How much time outside of class did you spend studying or doing homework?
Knox: I have never been a big studier, so I learned to cram right before a test, such as the night before or literally minutes before a test, which seemed to work pretty well for me. Maybe I'll take a night off once in a while if I know I have time before the assignment is due.
Lopez: Outside of class, I spend about three to four hours every day doing school work.
Q: Which classes and/or teachers at Denair High had the most influence on you?
Lopez: The teachers who had the most influence on my life were Mr. Cumberland, Ms. Olivas and Mrs. Montoya. My freshman teacher, Mr. Cumberland, helped introduce me into learning and preparing for college early on. Without his guidance and open doors, I wouldn't have achieved what I have today. My Spanish teachers, Ms. Olivas and Mrs. Montoya, have also been amazing supporters who have pushed me to try new things that I would have never thought to pursue.
Knox: A few teachers influenced me in my high school career, the most important ones being Mrs. Hilton, Mr. Cumberland, Ms. North and Mrs. Gresham. Mrs. Hilton doubled as a teacher and a coach, and became a mentor in a way. She was someone I have always looked up to and valued the opinion of. Mr. Cumberland was only my health teacher my freshman year, but became my advisor when I joined yearbook my sophomore year. He became a friend, confidante and almost a father figure. Ms. North was a new teacher this year and the new varsity volleyball coach. I didn't know if I liked her at first, but she quickly became one of my favorite teachers and a trusted consultant. Last but not least is Mrs. Gresham, the school counselor. Even though she's not a teacher, she was still very important to me during high school. She was always willing to help me get the classes I wanted and her door was always open to me.
Q: How many Advanced Placement classes were you able to take? Were you challenged?
Knox: During my high school career, I was able to take four AP classes and almost a fifth. I took AP Literature, AP U.S. History and a semester of AP Biology my junior year, and AP Language and the other half of AP Biology my senior year. It was challenging because most of the AP courses offered at Denair are online and a student is only allowed to take three online courses per semester. I tried for more online courses, but barely got approved for three.
Lopez: I was able to take three Advanced Placement classes throughout my last two years of high school. My junior year, I took AP English Literature and my senior year consisted of AP English Language and AP Spanish Literature. These classes definitely challenged me to learn the material more in depth and further develop my time management skills.
Q: What kind of culture of learning exists in your home? What has that meant for your success in high school?
Lopez: I come from a Spanish-speaking home, causing my first language to be Spanish. I have had to work hard to adapt to the English language and still continue with my Spanish roots. In our family, education is highly praised and encouraged. This has driven me to be hard-working and determined toward the goals I have set for myself.
Knox: Even though my mom never got a college degree, she has always been really adamant that I push myself to be my best in everything, stay on top of my studies and go to a good college. I owe a lot of my own success and strict work ethic to her.
Q: What should members of the community know about the quality of education at Denair High?
Knox: Even though Denair High is a small school, it still manages to offer a multitude of courses. If a certain course isn't offered on campus, I'm sure it's offered through the school's online partner. Something I learned to value in my time here is the small student-to-teacher ratio. A big reason for my academic accomplishments and success is the small class sizes and 1-on-1 time I have been able to have with my teachers, especially in math.
Lopez: With the low amount of students at Denair High School, it is easier to ask questions and have 1-on-1 time with our teachers. Our learning experience is definitely enhanced because we build close relationships with our teachers, allowing us to have a deeper understanding of what is taught. I believe having someone that will help you through the transition from high school to college or your next step is essential. The staff at our small school serves as a team of supporters that want to see us succeed.
Q: Outside of class, what kinds of teams, organizations or clubs are you involved in? How important are extracurricular activities in preparing you for college and beyond?
Lopez: When I first entered high school, I knew that I wanted to get involved and find new passions. My freshman year, I joined FFA and showed my first meat goat at the Stanislaus County Fair. This was a memorable experience because it taught me responsibility, time management and more about animals. I also began to participate in the CSF club, which helped maintain my grades and kept me aware of college. My sophomore year, I continued my involvement in CSF and remained affiliated until my senior year, when I became a CSF life member. During sophomore and junior years, I played tennis. I was able to find a new, fun hobby that I enjoyed, while learning more about my classmates. Tennis was an important part of high school because it served as a way to deviate my focus from school for a few hours. I felt like after practice I could focus easier on my homework without feeling stressed or confused. Junior year quickly approached and I became part of the leadership class. I had the position of junior booth along with my partner, where we fundraised for our senior class trip, which entailed buying and selling snacks at every home sports game. Soon, a new club began named HYLC that promotes diversity and culture, which I jumped at the opportunity of becoming secretary. Being my senior year, I am currently still a member of leadership with the position of secretary, as well as the HYLC club secretary. Last, but certainly not least, is the PHAST club, which I joined as a senior. Extracurricular activities are very important to me because they have taught me new skills that will help me in college. Being involved in several clubs at once has taught me how to manage my time and the importance of communication.
Knox: I was able to be a member of multiple sports teams and clubs in high school, all of which made my college and scholarship applications look good. I was able to do three sports, as well as cheerleading, all four years. The sports included volleyball, basketball, softball, and track and field. I was also a member of Key Club, yearbook, leadership and was a CSF life member.
Q: What is the right balance for teens busy with school, teams or clubs, and even part-time jobs?
Knox: Finding balance is hard. I'm practiced in my routine and know what works for me, but I also know a lot of students struggle with time management. I know I wanted to push myself to do everything while in high school on top of keeping a 4.0 GPA. I even tried to get a job; however, it was a good thing I didn't get the gig because I would have had no time for it whatsoever. You have to pick and choose what you'll do in high school, because you simply can't have it all. My suggestion is to choose the regular high school experience; you have your whole life to work, but you'll never experience high school again.
Lopez: At times, you can find yourself feeling overwhelmed when you have put too much on your plate. It's important to be involved, but also not to stress yourself out because you want to have that time to yourself and your friends. High school shouldn't only be about your education, but also a period of time where you find your passions and discover new aspects of yourself. Try new things, but once you begin to feel like it's too much, take some things off your plate and enjoy yourself.
Q: What are your college and career plans?
Lopez: I plan to attend San Jose State and obtain my bachelor's degree in biological sciences. After graduating, I want to enroll into veterinary school. Ever since I can remember, I've always wanted to become a veterinarian and never really looked into any other careers. Now, I know what my interests are, but I still have so much to learn and discover about myself. I hope along the way I can find new interests in other career paths or strengthen my wishes of becoming a veterinarian.
Knox: I will be attending Colorado State University in the fall and double major in zoology and animal science. I hope to earn a bachelor's degree and then move onto grad school to become a small and large animal vet.
Q: What themes are you going to talk about in your speeches on graduation night?
Knox: My speech is a little cheesy, but very heartfelt and emotional. I focus a lot on the metaphor that we are turning to the next chapter in the book of life. I also emphasize the feelings I have for my hometown and express my happiness and gratefulness for having grown up here with my classmates.
Lopez:Throughout my speech, I plan to touch on the importance of family, friends and my academic situation. At the moment, there are many students who know what they want to become and there are also others who aren't quite sure. Personally, I'm not too sure what career path I want to follow and I want to address the students who are in the same situation I am.