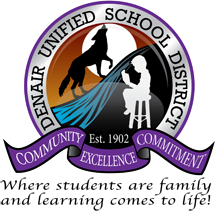 Submitted by Denair Unified School District
Every student enrolled in the Denair Unified School District qualifies for three free meals each day starting this school year.
Nearly half the roughly 1,300 students at the district's four campuses meet the Community Eligibility Provision (CEP), allowing the district to offer free breakfast, lunch and an after-school snack to every student. A district qualifies for the program if more than 40% of families in its attendance area are enrolled in Medi-Cal. Students also qualify if they are certified as homeless, runaway, migrant, foster or enrolled in a federally funded Head Start program.
Denair's participation and the federal and state reimbursements will save the district an estimated $5,000 this school year in food subsidies, said Chief Business Officer Linda Covello.
There are many benefits to the program, according to the U.S. Department of Agriculture, which provides funding and oversight:
Students: Access to free nutritious meals for all students, less time spent in cashier lines and more time to eat nutritious meals
Parents: No household application means less paperwork and no worries about lunch accounts
School staff: Streamlined meal service operation and more time for students to eat their food
Administrators: Reduced paperwork and administrative costs, no need to track unpaid meal charges, improved program integrity, and more nourished students ready to learn and grow
Free breakfast and lunch will be served at all of Denair's cafeterias – Denair Elementary Charter Academy, Denair Middle School and Denair High School. Denair Charter Academy also will have access to free meals at the elementary or high school cafeterias. After-school snacks for all students will continue to be available at the middle school cafeteria.
"It's very exciting to know that our students will now have access to three nutritious meals a day at no cost to their families," Covello said.
For more information, go to http://culinarycoyote.com or call the Food Service Department at (209) 632-7514.