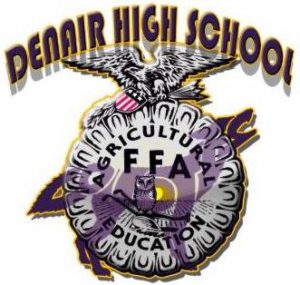 Submitted by Denair Unified School District
TURLOCK – There are no shortcuts to success for FFA students at the Stanislaus County Fair. Just ask Brielle Prock and Yasmin Mendoza.
The two Denair High sophomores-to-be spent more than 50 hours – including three consecutive 12-hour days – preparing their joint entry in the outdoor garden exhibit. Together, they transformed a barren 10-foot by 10-foot plot into a colorful July 4th backyard barbecue motif, highlighted by flowers planted in the shape of an American flag.
Their hard work impressed the judges, who awarded them first place in their category and defeating larger teams from Turlock High and Enochs in Modesto.
"We started planning it in May before school ended, but most of the work happened later," Prock said of the garden. "We knocked it out in 10 days."
She credited many in the Denair community for their help, including monetary support from the Denair FFA Ag Boosters that allowed them to purchase the flowers.
Long days are a common theme for the 41 Denair students who entered livestock or projects into this year's fair, which wraps up its 10-day run on Sunday.
"The fair is kind of an addiction," admitted Blain Cole, a junior this fall who is the incoming president of the Denair FFA. He's often on site by 6 a.m. with other students to tend to their animals. He sometimes goes home or leaves to for lunch in the afternoon, but returns later to watch over his Hampshire lamb and mingle with friends. It's the same fair schedule he's been on for six years.
"It's fun," he said, "but the rush of showing (animals) can wear you out."
Courtney Prock, a recent Denair High graduate (and Brielle's cousin), also is a fair veteran. Her entry this year was an unnamed 97-pound Boer goat she's had since April. It's her fourth time showing goats or pigs. She enjoys the competition and doesn't mind the long days.
"My sophomore year was probably the best year," she said. "All the people showing goats were nice. And a bunch of us played cards and board games" on folding tables near the stalls.
Denair's students received their fair share of ribbons and recognition during the fair, but one of the most satisfying results for ag teacher and FFA adviser Taylor Doo was earned by one of the group's youngest members, seventh-grader Dakota Rutherford. She walked away with two ribbons for her market Hampshire hog.
"Dakota got second in her class of 13; then she placed third out of all 65 intermediate FFA kids," Doo said. "She was the only seventh-grader in the whole class. The rest are all in high school."
Most of the students showing livestock have been raising their sheep, goats, lambs, pigs, chickens and cattle for months. It's hard not to get emotionally attached to animals they care for, feed and bathe. Some even give them names – like sophomore Jasmine Baltazar, who calls her 260-pound pig Billy. He was 80 pounds when she got him in March, but has bulked by eating 3½ to 4 pounds of special feed daily. They won a third-place ribbon in the market category.
And when the auction is done this weekend, Baltazar has no illusions about what happens next. Billy – like and thousands of other animals on display – will be led to the slaughterhouse and turned into someone's delicious pork chops, ham or bacon.
"My dad's boss is going to buy him," said Baltazar, adding there is zero chance of Billy winding up on her plate.
"I don't eat pork," she said with a smile, "so I won't eat Billy."
2018 Denair FFA Exhibitors
Sheep
Blain Cole
Christian Obando
Chloe Padgett
Emily Mancilla
Hogs
Arlene Zacarias
Jasmin Baltazar
Dakota Rutherford
Goats
Angelo Retana
Alexandria "Alex" Sanders
Courtney Prock
Madison Womack
Jacob Lewellen
Beef
Jesus Perez
Danielle Tigner
Breeding Rabbits
Allison Neal
Ag Mechanics
Blain Cole
Blake Davis
Bryson Prock
Horticulture
Yasmin Mendoza
Brielle Prock
Floral
Monique Villa
Uriel Gonzalez
Brittany Durham
Wendy Alvarado
Makayla Gerke
Pureza Avila
Chelsey Sifuentes
Chloe Padgett
Alexis Climer
Nicole Johnson
Hailee Padgett
Yuzaleth Flores
Angela Verduzco
Courtney Frazier
Bria Lameira
Makaylah Simoes
Madison Keas
Suzy Brasil
Lili DeLaCruz