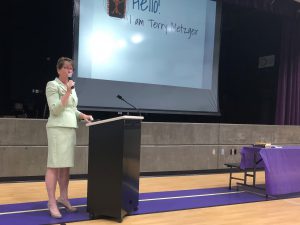 Submitted by Denair Unified School District
Terry Metzger has been superintendent of the Denair Unified School District since July 1, but Monday was her first chance to introduce herself to most of her non-administrative staff. Those who haven't met her before were treated to a fun, inspiring and illuminating presentation about their new boss.
For instance, while sitting in the Coyote Center, they watched as Metzger narrated a series of coyote photos – a pup (acknowledgement that she's the newest employee), a playful young coyote (she likes to laugh and encourages professional humor to relieve stress), a serious adult coyote (to underscore her long-term  commitment to the district) and cartoon character Wile E. Coyote (she described her "hidden agenda" as providing every student with the best possible education, including a willingness to employ "rockets, anvils, and dynamite" to get kids to learn).
Metzger also offered personal anecdotes about her family and career, which brought her to Denair from the Rincon Valley Union School District in Santa Rosa, where she was assistant superintendent for curriculum and instruction since 2012.
At one point, she flashed a photo taken on the same day a year ago. In it, she has casts on each arm, the result of a fall that broke her both elbows and led to two surgeries, including a titanium elbow replacement on her right arm. She was in the hospital for eight days and told employees Monday about "some of the lessons learned through trauma."
One of them, Metzger said, was not to give up on your dreams even in the face of such a serious situation.
"The first thing I asked the orthopedic surgeon was, 'I have an overseas trip planned in nine weeks. Do you think I'll be able to go?' " Metzger recalled. "He told me he doubted it; a stand he took until about two weeks before my trip when he said it would be difficult but possible.
"It was the trip of a lifetime! We dialed back our expectations and I had to promise my husband I would not even ask to ride a bike while there, but it was a wonderful adventure. I still had compression sleeves, but no casts or braces."
The day after they returned from Europe, Metzger and her family faced another harrowing situation. Sonoma County was on fire. Twice, they had to evacuate their home in Santa Rosa, each time not knowing if their neighborhood would be standing when they were allowed back in.
She showed Denair employees a photo of the Tubbs Fire, in which 24 people died and nearly 5,000 homes were destroyed last fall.
Metzger's home in eastern Santa Rosa was saved, but she knew many people who lost everything. She said the experience taught her the value of community, about friends and neighbors being there for each other in the worst circumstances many will ever face. She said that community spirit – which she already has seen in Denair – is an important component of quality schools.
Metzger also shared some of her learning philosophies, gleaned from more than 30 years as a teacher and administrator. She talked about the ways students learn in and out of the classroom, and encouraged her staff to strive for "cognitive conflict," which she defines as a collegial culture that promotes professional growth.
The new superintendent can't wait for classes to begin Wednesday. Asked her plans, she said: "I will choose joy by visiting each school and joining in the first-day excitement. I can't wait to start meeting students and their families!"
Denair School Schedules
DECA: 8 a.m. to 2:40 p.m.
DMS: 8 a.m. to 2:45 p.m.
DHS: 8 a.m. to 2:45 p.m.
Bus questions: (209) 632-9917