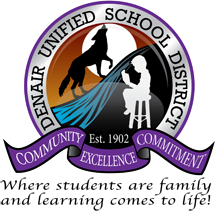 Submitted by Denair Unified School District
A parcel tax to pay for complete salary restoration for all Denair Unified School District employees will not be on the November ballot. The earliest community members could vote on the idea would be next March, school trustees were told Thursday night.
A parcel tax would add less than $100 per year to each property owner's tax bill. The concept has been floated as a way to restore pay for teachers, classified employees and administrators, all of whom took steep pay cuts in 2013 when the district teetered on the edge of state takeover.
Though the district's finances have since stabilized and overall enrollment – especially at the elementary level – has shown growth, longtime employees still are paid today about what they were 11 years ago.
Trustees steadfastly have pledged to close that gap, but only when assured that higher wages could be sustained without impacting the budget.
Thursday, the board gave the go-ahead for new Superintendent Terry Metzger and Chief Business Officer Linda Covello to continue investigating how to bring a parcel tax to a special election as soon as March. To pass, it would need two-thirds approval from voters.
A public hearing to flesh out more details and solicit community reaction is likely to take place at the board's next meeting Sept. 13. A special election could cost the district as much as $50,000.
The parcel tax might only be in place for three or four years, trustees were told. All the money would be used to restore salaries, which has been a major issue not just for employees but for community members concerned about turnover among teachers.
"The parcel tax contributes to education in Denair because it allows us to restore salaries, hire and retain staff, and advance the quality of education," Metzger explained.
Coupled with a discussion about a potential parcel tax was a presentation by Metzger and Covello about transforming DUSD into a charter district, which would allow greater flexibility in programming and teacher assignments.
Denair Elementary Charter Academy and Denair Charter Academy (for home-school and independent study students) already operate in such a manner. A new charter would extend to Denair Middle School and Denair High School.
Key to the charter concept, the leaders explained, is the creation of fully integrated "pathways" that begin in kindergarten and extend through high school. Parents and students could choose from career and technical education pathways that include not only core academics but music, Spanish and world languages, young farmers, special education and possibly law enforcement.
Exposure to STEAM (Science, Technology, Engineering, Arts, and Math) concepts would be emphasized in each pathway, as would leadership activities.
The idea is to prepare students not just for college, but to move from school into productive careers.
"This vision is far ahead of what other California districts are doing," said Metzger. "This is cutting edge stuff."
At least half of Denair's teachers must sign off on the charter idea, but Metzger said "we want a bigger consensus than that." Community input must be solicited and a committee formed to write the new charter, which ultimately needs approval from the state Board of Education. Like the parcel tax, that also could come early next year.
There is much to do before either vision can be implemented, though.
"We need to make sure this is the right decision for Denair Unified," Metzger said.
In other action Thursday, trustees:
Heard a presentation from the district's bond agent that shows the decision in June to refinance long-term construction bonds sold in 2007 will save taxpayers an estimated $895,000 over the next 14 years. In addition, a separate refinancing of certificates of deposit issued in 2004 to build the middle school will save another $452,000 over 24 years.
Listened as each campus principal reported on the first day of class, which began Wednesday. DECA Principal Kelly Beard said three grades are completely full, with waiting lists for two of them. High school Principal Kara Backman said there were 30 more students on campus than on the first day of school last year.
Swore in Logan Pierce and Scott Badal as this year's student board members.
Watched a 15-minute documentary profiling three Denair students. The video, called "Unified," already has been viewed more than 19,000 times since it was released Aug. 2.