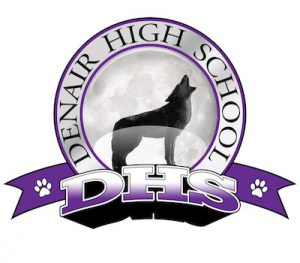 Submitted by Denair High School
LE GRAND  — An explosive offense and a stifling defense. Denair used both in Friday's 41-21 romp over Le Grand, setting up an early season Southern League showdown with Ripon Christian this week.
The Coyotes (4-0, 1-0) and Knights (4-0, 1-0) are the only undefeated teams left in the league after Ripon Christian hammered previously unbeaten Waterford on Friday.
"They've got a good defense. We're going to have to score some points," said Denair coach Anthony Armas.
Scoring hasn't been an issue all season for the Coyotes, who have lit up scoreboards for 185 points in four games.
The offensive assault has been led by Denair's three-headed monster at running back – Dylan De Silva, Steffin Winston and Hunter Musgrave.
Two weeks ago, De Silva scored five touchdowns against Stone Ridge Christian. Recognizing that, Le Grand set up its defense to try to stop the big fullback. All that did was create more openings for Winston and Musgrave, the two halfbacks.
Winston jump-started the offense with a 59-yard run touchdown run on Denair's first offensive play. It came immediately after defensive back Drew Pritchard opened the game by intercepting a Le Grand pass. He picked off another throw just before halftime.
Musgrave added the first of his two TD runs as the Coyotes raced to a 14-0 lead. Le Grand bounced back with a touchdown to make it 14-7, but Winston ran back the ensuing kickoff 92 yards for another TD and the Coyotes never looked back.
They led 34-7 at halftime thanks for another touchdown each by Winston and Musgrave. Winston finished with 12 carries for 139 yards while Musgrave ran 13 times for 92 yards.
"They were really keying on Dylan, so that opened things up for Steffin and Hunter," Armas said. "Steffin is so big and fast. He sees a crease in the defense and just hits it."
Denair's final score came in the second half on a pass from Elvis Silva to Scott Badal. And though the Coyotes allowed Le Grand to score twice after intermission, Armas was mostly pleased with his defense.
"We did what we wanted to do," he said. "Defensively, we did better against the run. We gave up some deep balls. They had a receiver who was an athlete, but I thought we played pretty well."
It's been so long since Denair opened the season 4-0 that no one associated with the program is certain when it last happened. Armas doesn't really care. He and his coaching staff have been impressed by how this year's team has taken each game as it comes, without looking ahead to any particular opponent.
"They're a fine group of kids," Armas said. "They're enjoying the ride right now. They kind of expect to win, which is good.
"They're working hard in practice. I don't think anything's going to our head. They just go out and play football."
JV Game: Le Grand 33, Denair 0
This week: After two weeks on the road, Denair comes home to Jack Lytton Stadium for Friday's showdown with Ripon Christian. "They're good," assessed Armas. "They're big, they're physical, they've got some playmakers. … They'll bring pressure and try to make us make mistakes." … RC is No. 1 in the Modesto Bee's small-school rankings; Denair moved up to No. 4. … The Knights are coming off a 42-6 victory over Waterford.