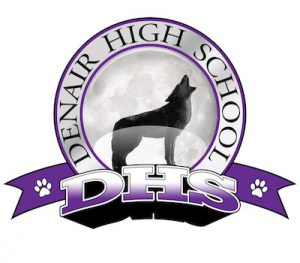 Submitted by Denair High School
There are eight matches left in the Denair High volleyball season. And though the Coyotes have struggled at times – winning just once — Coach Christy North has seen consistent improvement and competitiveness. She believes Denair will play a factor in which team wins the Southern League title this fall.
"We continue to work on our serve receive issues, while steadily increasing our own serve percentage," North said. "However, we are a stronger team than in the past, and are improving our strategies and skills each contest.
"I still believe we can have a .500 record (in league), and definitely be a spoiler against a team who doesn't take us seriously."
The Coyotes (1-10 overall, 1-4 in the SL) will rely on its two senior co-captains — setter Adrianna Snyder and outside hitter Cheyenne Souza – to lead the way to more success.
Snyder missed about a month and a half after suffering a concussion the first week of the season. North could see a difference when she returned. "I think her energy was contagious."
North said Souza consistently has put pressure on opponents with her serves and aggressiveness at the net.
In Denair's lone victory – a 3-2 win over Gustine on Sept. 11 — freshman Caitlin Warda came off the bench to start as outside hitter in the deciding game and served seven points in a row, including two aces.
North said the Coyotes still are refining their skills using a "libero," which is a defensive specialist. Liberos must wear a contrasting jersey color from  her teammates and cannot block or attack the ball when it is entirely above net height.
Junior Tati Abebe began playing libero in the Gustine match.
The Coyotes' next match is home against Waterford on Tuesday at 6:30 p.m.