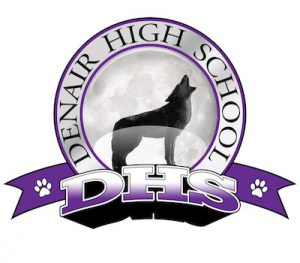 Submitted by Denair High School
GUSTINE – The play is called "Power," which accurately describes what Denair's offense intends to do to opponents.
Overpower them.
Friday night against Gustine, the Coyotes imposed their will in the second half by running "Power Left" and "Power Right" again and again in a 49-14 Southern League victory.
Denair (5-1, overall, 2-1 in the SL) actually trailed 14-7 at halftime, when it regrouped with two of its starting offensive linemen – left guard Hayden Haile (shoulder) and left tackle Zach Cherry (ankle) – sidelined by injury.
"We had to shuffle it around. We were scrambling to find that place where we were comfortable," said Coach Anthony Armas.
Typically, that means reverting back to "Power" – a play that Armas, a former offensive lineman, calls one of his favorites.
"Power" involves most of the offensive linemen blocking straight ahead while either guard pulls to lead the play, depending on which direction it goes. It's one of the first plays every football team learns.
"We narrowed the scope of what we did and stayed with the plays we were running well," Armas explained. "All our kids know 'Power.' We just mixed it up between that and a few other plays."
Reserves Emannuel Zapien (left tackle) and Quentin Parker (left guard) rose to the occasion, Armas said, working with the other offensive linemen to create plenty of space for running backs Hunter Musgrave, Dylan De Silva and Steffin Winston to repeatedly gashed the Reds' defense.
Musgrave had his best game of the season, ripping off 206 yards on 18 carries and scoring three touchdowns. Winston ran 14 times for 84 yards and a TD, and DeSilva pounded Gustine for 61 yards and three more touchdowns.
Denair's defense also had a big role in the romp, forcing three Gustine turnovers in the second half (two fumbles and one interception by Will Knox). The Coyotes turned each of those takeaways into points while holding the Reds scoreless.
"We were more aggressive in the second half. We filled our gaps better. We were flying to the ball," Armas said.
The victory moved Denair into a four-way tie with Orestimba (5-1, 2-1), Waterford (5-1, 2-1) and Gustine (4-2, 2-1) for second place in the league behind unbeaten Ripon Christian (6-0, 3-0).
RC already has handed Denair and Orestimba their only losses. It plays at Gustine this week while Denair faces another tough road game on the West Side in Newman against Orestimba. Waterford hosts Mariposa.
JV Game: Denair 7, Gustine 0. The Coyotes are 1-3-1 overall and 1-2 in league play.
This week: It doesn't get any easier for the Coyotes, who face an Orestimba team that just had its 23-game Southern League winning streak snapped. "They're talented, especially on the offensive side of the ball," Armas said. "They're really aggressive on defense. … It's going to be tough. It's their homecoming; they're coming off a loss. It should be a charged atmosphere. It will be fun." … Denair has scored 241 points in six games despite being held to only one touchdown in its 35-7 loss to Ripon Christian. … A victory this week would put the Coyotes in a good position for a Sac-Joaquin Section Division VII playoff berth with three weeks to play – home games against Delhi and Waterford sandwiched around a road contest in Mariposa.