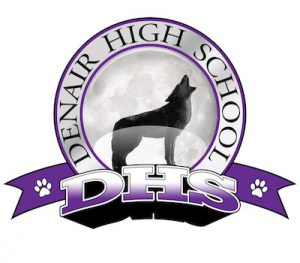 Submitted by Denair High School
MARIPOSA – Neighborhood bragging rights, solo second place in the Southern League and, most importantly, a probable first-round playoff bye will be on the line this week as Denair's football team tries to extend its most successful season in more than a decade.
The Coyotes (8-1 overall, 5-1 SL) control their fate. Friday's 28-7 road victory over Mariposa kept them alone in second place in their conference with one regular-season game to play. A victory this week at home against Waterford guarantee no worse than second place in league.
Unbeaten Ripon Christian (9-0, 6-0) – which handed Denair its only loss – is cruising to the SL title. The Knights host winless Delhi (0-9, 0-6) this week, so nothing short of a miracle would get Denair a co-championship.
But a victory over the Waterford (6-3, 3-3) would position Denair for a well-earned week off when the Sac-Joaquin Section Division VII playoffs begin Nov. 2. Because there are only six teams in the Section's smallest division, the top two seeds get first-round byes.
"I'd rather take the week off and get rested and get some kids healthy than play another game," said Denair Coach Anthony Armas. "We've got a lot of kids going both ways (on offense and defense)."
Denair and Big Valley Christian (8-1) of Modesto are the likely top seeds, if they both win.
"I know zero about how they figure out the playoff seedings," Armas said. "I think it's strength of schedule and record, but I don't know what they're thinking about in Sacramento."
The playoff brackets for all divisions will be announced online Sunday.
Armas felt his team was guilty of thinking too much about the various playoff scenarios last week, which may have contributed to a relatively slow start against Mariposa.
"I think we got caught up too much in the playoff buzz," he said. "Some of the kids were asking about it and wondering who we might play. … I tell them the same thing every week: We just need to take care of our business and the rest of that stuff will sort itself out."
For one of the few times this season, Denair found itself behind against the Grizzlies (2-7, 1-5).
Mariposa took a 7-0 lead in the first quarter before Denair rallied behind running back Drew Pritchard and a passing attack led by quarterback Elvis Silva that hasn't been needed often this season.
"They were pretty hell-bent on stopping the run," Armas said. "They were really stacking the  box on defense."
Pritchard's 1-yard plunge tied the score late in the first quarter. He gave Denair a 14-7 halftime lead on a pretty 17-yard touchdown pass from Silva.
Pritchard wasn't done. He added a 10-yard TD run in the second half to stretch Denair's advantage to 21-7. He finished with 75 yards on 13 carries, caught two passes for 42 yards and also played a key role on defense, intercepting a Mariposa pass in the first half.
Steffin Winston (15 carries, 75 yards) capped Denair's scoring with a 15-yard TD pass from Silva in the fourth quarter. Silva, a junior, had his best game of the season, completing nine of 11 throws for 143 yards and two TDs.
"It was close into the third quarter, but it never felt like we were in danger," Armas said. "We fumbled twice inside the red zone. One of them was inside the 5-yard line after a long drive."
JV Game: Mariposa 45, Denair 0. The Coyotes are 1-6-1 overall and 1-5 in league play.
This week: Waterford has lost two games in a row (to Orestimba and Gustine) but still has playoff aspirations. The Wildcats also have beaten Denair the past two seasons – something Armas won't have to remind his seniors of this week. "Their quarterback really makes their offense go," he said. "They're aggressive on defense. We've got to do what we do and do it well. We've got to be disciplined on both sides of the ball. We've got to focus on us." … Friday's game kicks off at 7:15 p.m. at Jack Lytton Stadium. … A scheduling oddity had Denair playing four homecoming games in a row – its own, plus away games at Gustine, Orestimba and Waterford. The Coyotes went 4-0 in that stretch and are a perfect 5-0 this season on the road. … Denair won eight games for the first time since 2006, when the Coyotes made it all the way to the Section Division VI championship game. They lost to Lindhurst and finished 8-4 overall. … Denair remains No. 2 in the Modesto Bee's small-school rankings behind Ripon Christian. … In 'N Out Burger in Merced was a popular place for Southern League football teams last Friday night. The Coyotes stopped there on their 90-minute trip back from Mariposa. So did Ripon Christian after it played at Le Grand. And some of the Le Grand players also showed up. "It was packed," Armas said.
This slideshow requires JavaScript.