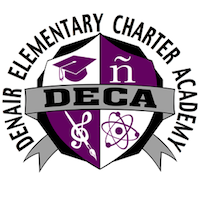 Submitted by Denair Elementary Charter Academy
Pattie Hegg has a special relationship with books. Which makes sense. She's a librarian, after all. She loves the way books feel, their smell and their ability to spirit her away on another adventure.
Her enthusiasm is contagious, which is why Hegg is the perfect person to help introduce children to the wonders of reading at Denair Elementary Charter Academy.
"You can do anything in the whole world if you can read," said Hegg, who has worked at DECA the past six years and, before that, at a used bookstore in Modesto.
This year, for the first time, Hegg created a voluntary program she calls Coyote Reading Circle. Three times a month – every other Thursday with second- and third-graders, and once with fifth- and sixth-graders – Hegg invites students into her world for an hour after school.
Recently, 29 second- and third-graders lined up outside the library door – first to enjoy an afternoon snack, then to answer questions about "Bunnicula," a story by Deborah and James Howe about a bunny with "unusual habits." Students were expected to have finished the book at home so they can participate in the discussion.
Hegg asked the youngsters how they know Bunnicula is a vampire. Eager students sitting at the low desks excitedly raised their arms.
"He turned the red fruit white when he sucked all the juice out of it," says one young boy.
Next, Hegg introduced the group to "Freckle Juice," a book by Judy Blume about a young boy named Nicky who wants to have freckles. She asked for volunteers to help her read passages aloud, then patiently encouraged the boys and girls whom she selected.
"So many of them don't feel confident reading out loud," explained Hegg, sporting a T-shirt that said I Still Read Children's Books. "I had a speech impediment when I was in fifth grade. I got teased a lot, so I want kids to be comfortable."
She didn't have to work hard to convince DECA Principal Kelly Beard that the Coyote Reading Circle was a good idea.
"We want to foster a love of reading and books within our students," said Beard, praising the Denair Parent Service Club ($1,200), Denair Education Foundation ($500) and Denair Lions Club ($250) for their donations that helped pay for each child's books this school year.
"Students will get to keep the books they are reading and be able to add to or begin building their own library at home," said Beard. "We encourage families to spend time together reading the book."
Hegg picks books that are appropriate to the grade level and the students' abilities. There are no grades. It's all about cultivating a fun habit she hopes serves them their entire lives.
"I love books. Books are my best friends," said Hegg. "You can find anything in a book. … I just want these children to love to read."
This slideshow requires JavaScript.