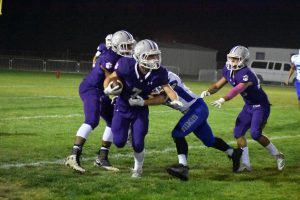 Submitted by Denair High School
It's only fitting that on Senior Night, it was senior Steffin Winston who grabbed the spotlight and led Denair's turbocharged offense to a 60-26 romp over rival Waterford on Friday night.
Winston ran for 259 and five touchdowns, and also picked off a pass on defense, as the Coyotes finished their best regular season in more than a decade and clinched the top seed and an all-important first-round bye in the Sac-Joaquin Section Division VII playoffs.
Denair increased its record to 9-1 overall and 6-1 in the Southern League, good enough for second place alone behind unbeaten Ripon Christian.
More importantly, the Coyotes marked themselves as the team to beat in the six-team Division VII playoffs.
"It's pretty exciting," Denair Coach Anthony Armas said of earning the No. 1 seed. "I think our kids expect to win now, which is good. I always worry about complacency, but I haven't seen it."
Denair is assured of hosting a second-round playoff game on Nov. 9 at Jack Lytton Stadium against the winner of this week's game between No. 4 Gustine (5-5) and No. 5 Millennium (5-5).
No matter the opponent, the Coyotes should be confident, having beaten both schools earlier this season (56-18 against Millennium on Aug. 31 and 49-14 against Gustine on Sept. 28).
The other half of the Division VII bracket features No. 2 seed Big Valley Christian (9-1), which also has a bye this week while awaiting the winner of No. 3 Golden Sierra (6-4) and No. 6 Woodland Christian (6-4).
The Division VII championship game will be played Saturday, Nov. 17 at a site still to be determined.
Whichever team aspires to knock off Denair will have to deal with the Coyotes' fast-paced offense, which scored 400 points in 10 games and averaged more than 44 points in their nine victories.
Denair uses motion and misdirection to confuse opponents, relying on the deft ball-handling of quarterback Elvis Silva, powerful fullbacks Dylan De Silva and Drew Pritchard, and elusive running backs in Hunter Musgrave and Winston. It's a lethal combination.
Friday night, Waterford (6-4, 3-4) had no answer for Winston, who shredded the Wildcats' defense over and over, mostly on runs to the outside.
"Steffin's just got a good combination of size and speed," Armas said. "He can do outside stuff where it's speed and make people miss. But he can also run between the tackles. … He's always been fast and athletic, but he's got bigger and stronger from his time in the weight room."
Winston finished the regular season with 1,124 yards rushing, but he's far from a one-man attack. Musgrave (967 yards), De Silva (746) and Pritchard (537) all have had big games this fall.
Against Waterford, the Coyotes piled up 504 yards on the ground and scored their season high for points.
The game was closer – at least in the first half, which ended with Denair ahead 21-14 – than the final score might indicate.
Armas said the biggest play came in the third quarter, right after Waterford had connected on a long touchdown pass. That's when Musgrave re-energized the home crowd with an 80-yard kickoff return for a touchdown.
"It was a huge part of the game," Armas said. "It really got the momentum back to our side."
Looking ahead, Armas said it will be a normal week of practice for the Coyotes, with Friday off.
"We won't have as much contact this week. We've got some kids dinged, so we'll get them healthy," he said. "We'll go over stuff about both teams (Gustine and Millennium) to keep them fresh, but we'll tell the kids from here on out, there's not a defense or offense that we haven't seen. We'll just keep working on stuff that we can get better at — assignments, footwork, alignments."
Armas said he won't attend the Gustine and Millennium game, preferring to do his scouting by watching film. He'll encourage his players to go to another playoff game this week just to get a sense of what other teams are doing.
By the time they all return next Monday, they'll know exactly who they're playing at what's at stake.
Armas said this fall's success is no surprise to him or his coaching staff.
"I think we all thought we were going to have a good team," he said, "but I can't say enough about what a great group of human beings these kids are. As a coach, it's a joy to coach them. They have a great attitude."
JV Game: Waterford 31, Denair 6. The Coyotes finished 1-7-1 overall and 1-6 in league play.
This slideshow requires JavaScript.