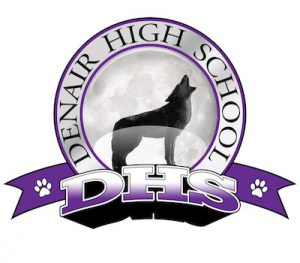 Submitted by Denair High School
It will be a Southern League rematch in the second round of the Sac-Joaquin Section Division VII football playoffs.
Top-seeded Denair (9-1) vs. No. 4 Gustine (6-5), with a spot in the championship game at stake. Kickoff is at 7 p.m. Friday at Jack Lytton Stadium.
The teams know each other well and played Sept. 28 in Gustine. Denair, trailing 14-7 at halftime, ambushed the Reds with six touchdowns in the second half to win 49-14 and ruin Gustine's homecoming.
That victory launched the Coyotes on a five-game winning streak that earned them solo second place in league behind unbeaten Ripon Christian, the coveted No. 1 seed in the playoffs and a first-round bye last week.
Gustine earned its rematch with Denair edging Millennium of Tracy 28-27 in Gustine last Friday.
Denair coach Anthony Armas said he didn't have a preference of who his team would play, but isn't surprised that it's Gustine. The Coyotes also defeated Millennium earlier this season.
"They're both physical and have some talented kids," Armas said. "Gustine has some big kids up front. They have a pretty talented running back. And their quarterback is pretty good."
Denair overpowered Gustine in the first game. Hunter Musgrave had his best game of the season, ripping off 206 yards on 18 carries and scoring three touchdowns. Steffin Winston ran 14 times for 84 yards and a TD, and Dylan DeSilva added 61 yards and three more touchdowns. Denair also forced three turnovers.
"I don't think they're 100% convinced that that win was legit," Armas said of Gustine. "I think they think it was a fluke. They're going to try to take it to us."
The coach said his message this week will be the same as it's been since practice began in August. "Just keep getting better at what we do."
What the Coyotes thrive on is a Wing T offense that keeps opponents guessing about which running back will carry the ball and which direction that will be. Other than Ripon Christian, no one has stopped Denair this year. The Coyotes are averaging 44 points a game in their nine victories.
What's equally important is Denair's defense. The Coyotes are holding opponents to 18 points a game, including one shutout and three games allowing just one touchdown.
"We've done pretty well offensively, but I think our defense gets overlooked," Armas said. "It was in the second half of that Gustine game that we became ball hawks. We've been good about creating turnovers ever since."
He expects Friday's game to be closer than the first meeting, if only because Gustine will be looking for payback and to spoil Denair's season.
"It's easier to make adjustments when you lose like that," Armas said.
Extra points: This will be the first home playoff game for Denair since 2007, according to athletic director Darrin Allen. … The Coyotes last were in the playoffs two seasons ago, when they were beaten on the road by Amador in the first round. … The other Division VII semifinal on Friday night has No. 3 seed Golden Sierra (7-4) of Grass Valley at No. 2 Big Valley Christian (9-1) of Modesto. … The championship game will be played Saturday, Nov. 17 at 1 p.m. at a site still to be determined.