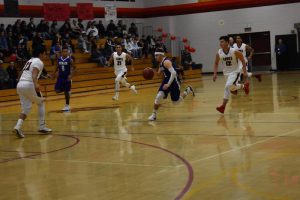 Submitted by Denair High School
Possibly as soon as Tuesday night, the Denair High School boys basketball team can accomplish something it hasn't done in seven years – clinch a spot in the Sac-Joaquin Section Division V playoffs.
The Coyotes are 7-2 with three regular-season games remaining on the Southern League schedule. They are two games behind unbeaten Mariposa (9-0), but even more important, they are two games in front of third-place Orestimba (5-4).
A victory Tuesday night against Gustine (4-6) would assure Denair of its first playoff berth in R.J. Henderson's six seasons as head coach.
"I've told them to embrace it. It's uncharted water for us," Henderson said Monday. "We used to get 50 or 60 people in the stands, but now we're playing in front of several hundred. It's fun. The guys are big men on campus right now. They're walking around with their chests out."
After Tuesday, Denair will be at home for its final two league games – Friday against Orestimba (5-4) and next Monday against Waterford.
The playoffs begin Friday, Feb. 16. Depending on how they finish, there is an outside chance the Coyotes could host their first game. More likely, Henderson said, is that they will be sent on the road to play a higher seed.
No matter. This year's players and coaching staff are riding a wave of excitement not felt since 2010-11, the last time Denair qualified for postseason.
Last Friday, the school chartered a rooter's bus for the team's away game in Delhi. More than 70 people climbed aboard. They were treated to a rout – Denair crushed the Hawks 62-35.
"It was electric," Henderson said of the support from the stands. Continue reading "Denair Boys on Cusp of Clinching Playoff Berth" »