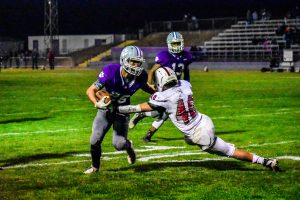 Submitted by Denair High School
Brimming with confidence and riding a six-game winning streak, this year's Denair football is poised to do something no other team in Coyote history has accomplished – win a Sac-Joaquin Section championship.
Denair, the No. 1 seed in Division VII, earned its place in Saturday's title game with a 39-18 victory Friday night over Southern League rival Gustine.
The Coyotes (10-1) next will play third-seeded Golden Sierra (8-4), who knocked off No. 2 Big Valley Christian 24-14 in Modesto.
The championship game kicks off at 1 p.m. Saturday at Liberty Ranch High School in Galt.
"It's exciting. It's special that we have a chance to play for Section title," Denair Coach Anthony Armas said Monday during practice.
Armas was an assistant on the last Denair team to make the Section Division VI finals, in 2006. The Coyotes lost to Lindhurst 30-7 that season. The team they beat in the semifinals? Golden Sierra.
The Grizzlies returned the favor in 2007 playoffs, knocking off Denair in the first round, so the two schools have some history – even if this year's players were in first and second grade then.
Like Denair, Golden Sierra likes to keep the ball on the ground. Both teams average nearly 40 points and more than 300 yards rushing a game.
Armas watched film of two Golden Sierra games over the weekend and said there were no surprises.
"They're going to run double wing – two tight ends, two wingbacks and offensive linemen who are foot-to-foot. Their feet literally are touching," he said. "They make walls and try to run behind them. … It's different but similar to what we do. Run the ball, control the clock and play defense."
Friday was the first home playoff game for Denair in 11 seasons – since that 2007 loss to Golden Sierra – and the partisan, purple-clad crowd at Jack Lytton Stadium was ready to roar.
The Coyotes didn't make them wait for long, scoring on a 69-yard run by Hunter Musgrave, one of four featured running backs in Denair's lethal Wing-T offense. He finished the game with 134 yards and two touchdowns, and played a role in the Coyotes' second TD even though he didn't score it.
Musgrave fumbled on the 1-yard line in the second quarter, but Denair lineman Zachary Cherry recovered the ball in the end zone for the TD. That gave the Coyotes a 14-0 lead. After Gustine kicked a field goal, Steffin Winston scored on a 10-yard run just before halftime to stretch the margin to 21-3.
Neither team scored in the third quarter, but Denair put the game away in the final period with three touchdowns – a 10-yard run by Musgrave, a 49-yard run by Drew Pritchard and a 16-yard pass from Elvis Silva to Scott Badal.
"It's so crazy," Musgrave told the Turlock Journal. "We always knew this team was special ever since our JV year and honestly, even last year when we didn't do so well, we knew we'd have a future so it means a lot because we've put in so much work."
Denair converted four times on fourth down, two of which went for scores.
"I think our kids are confident and they don't panic," Armas told the Journal. "It makes it easier as coaches to make calls and do things, because we know they're not going to freak out. They're going to do what they're supposed to do."
Extra points: This is Denair's third attempt to win a Section football championship. In addition to the 2006 game, the Coyotes lost in the 1998 Division IV finals, 33-14 to Central Catholic of Modesto. … Armas is mildly concerned about Saturday's 1 p.m. starting time. "We're not used to playing then," he said. "The good thing is that it's the same thing for the other team. If it does affect us, I hope it does them, too." … Golden Sierra is from Garden Valley, which is east of Highway 49 about halfway between Auburn and Placerville in El Dorado County. … The Grizzlies finished third in the six-team Sierra Delta League behind Rio Vista and Highlands. They have won three in a row. … Junior running back Keaton Wright has 1,128 yards and has scored 16 touchdowns. Junior Robert Reed has 777 yards and 10 TDs. … Liberty Ranch High School is at 12945 Marengo Road in Galt. From Highway 99, take the Twin Cities Road exit. Turn right and go east to Marengo Road. Turn right and the school will be on the left. The stadium is on the east side of the school, with parking just to the north.