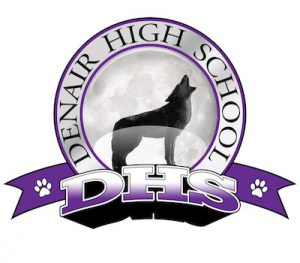 Submitted by Denair High School.
It has been an unusual week for students, teachers, and residents all across Northern California. The horrific Camp Fire in Butte County – where the death toll is nearing 80 and tragically rising every day – has darkened skies from Chico to Fresno.
The air quality has been so poor and unhealthy that classes in many districts have been canceled. So have extracurricular activities, especially those held outdoors – including the Denair High football team's date with Golden Sierra for the Sac-Joaquin Section Division VII championship.
The game originally was scheduled for last Saturday, but delayed for obvious health reasons. With a storm expected to sweep across California starting Wednesday, the game is back on track. It will kick off at 1 p.m. Saturday at Liberty Ranch High School in Galt.
Denair (10-1) returned to indoor practice only Tuesday for the first time in a week. Coach Anthony Armas is pragmatic as well as respectful about the unexpected break.
"It's a little nerve-wracking, but it's the situation we have and we have to deal with it," he said. "It's inconvenient for us, but everybody up north is dealing with much worse."
Armas assumes that Golden Sierra (8-4) hasn't missed as much practice because the air quality has been better where it's located in the foothills east of Sacramento.
Denair's plan, if it is allowed, is to practice in the afternoon on Wednesday, Thursday and Friday.
Armas is only mildly concerned whether his players will be a little rusty after a week off and the extra time for nerves to develop.
"Our kids are pretty focused group," he said. "They're rolling with it like we are. They've actually done well with it. That's a good sign."
The Denair Unified School District continues to monitor the air quality index and follow the guidance from the Stanislaus County Office of Education regarding all activities, including football, said Principal Kara Backman.
Extra points: Denair is the top seed in Division VII; Golden Sierra is No. 3. … This is Denair's third attempt to win a Section football championship. In addition to the 2006 game, the Coyotes lost in the 1998 Division IV finals, 33-14 to Central Catholic of Modesto. … Golden Sierra is from Garden Valley, which is east of Highway 49 about halfway between Auburn and Placerville in El Dorado County.
How to get there: Liberty Ranch High School is at 12945 Marengo Road in Galt. From Highway 99, take the Twin Cities Road exit. Turn right and go east to Marengo Road. Turn right and the school will be on the left. The stadium is on the east side of the school, with parking just to the north.