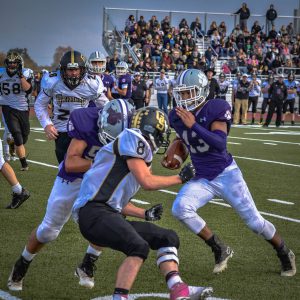 Submitted by Denair High School
The charmed season of the 2018 Denair High football team becomes more magical each week.
The Coyotes barely had time to process Saturday's 43-21 victory over Golden Sierra for the school's first-ever Sac-Joaquin Section Division VII football championship before they found out Sunday that they were selected to play for a state title this week.
Better yet? Denair gets to play before its adoring home crowd on the familiar turf at Jack Lytton Stadium. The opponent – Los Angeles City champion Santee – faces a six-hour bus ride. Kickoff will be at 6 p.m. Saturday.
Denair Coach Anthony Armas was getting ready to go to school Sunday to meet with Athletic Director Darrin Allen when he learned the Coyotes had earned a spot in the title game. Who told him? His mother, of all people.
"The CIF posted it on Max Preps. She saw it there and texted me," Armas said.
Families all around Denair – still basking in the glow of Saturday's Section championship — had more reason to celebrate.
Armas immediately sent a group text to his players: "Game Saturday, December 1st in Denair at 6pm against Santee from L.A. STATE TITLE GAME!"
Saturday's game at Liberty Ranch High School in Galt against Golden Sierra had been postponed by a week because of all the smoke associated with the deadly Camp Fire in Butte County.
Despite the layoff, Denair didn't look rusty. The Coyotes (11-1) jumped to a 13-0 lead early, then used two interception returns for touchdowns in the fourth quarter to seal its victory over the Grizzlies (8-5).
The first big play came with Denair leading 30-21 with about two minutes to play when senior Hunter Musgrave stepped in front of a Golden Sierra pass with the Grizzlies threatening to score. Musgrave weaved his way 91 yards for the touchdown that essentially sealed the game.
"I just stayed in my zone and he made a bad decision," Musgrave told the Modesto Bee about Golden Sierra's quarterback.
Amazingly, in a season of milestones for the Coyotes, it was the first time they scored on defense.
About 90 seconds later, Winston matched Musgrave's feat. He intercepted another pass and raced 70 yards to provide the icing on the Section and Northern California title cake.
"The first one was great. The second one was even better," admitted Armas. "I didn't even realize that we hadn't scored all year on defense. The ref told me after our kids told him."
Winston also starred on offense, scoring three rushing touchdowns and finishing with 99 yards on 18 carries.
"My offensive line was making beautiful holes for me and I was just hitting them as hard as I could," he told the Bee.
Musgrave also scored on offense on a trick play in the second half, when everything the Coyotes did seemed to work just as planned.
It all led to a postgame celebration that included the presentation of the Section trophy and blue championship banner, plus patches for each player to put on his letterman jacket. When the team bus finally rolled into Denair about 6 p.m., it was met by Fire Department trucks and escorted to an impromptu parade down Main Street.
Despite all the excitement, Armas expects to have a normal week of practice this week. The players will work out Monday, Tuesday and Thursday afternoons and Wednesday night under the lights, just as they do every week. They'll get Friday off before playing their final game Saturday.
"At this point, we're playing with house money," Armas said. "I don't think this week will be any different. … I don't think it's really hit me yet. Right now, it's just, 'Beat Santee.' "
Extra points: This is Denair's first Section championship since the boys basketball team in 2002. … Armas has only seen a little tape of Santee. What he saw impressed him. "They're big. They have a lot of speed. They have a really good running back. They look like a double tight end offense. They run the pistol and a little counter-option. I expect them to be physical." … Santee (13-1) defeated Los Angeles Fremont 52-20 Saturday for its Section title. … The Falcons are led by running back Joseph Todd, who has rushed for 2,788 yards and 40 TDs this season. He averages 214 yards a game.