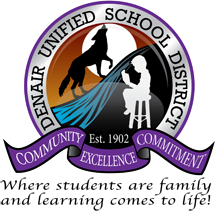 Submitted by Denair Unified School District
A just-completed community survey shows widespread support for the key priorities established by the Denair Unified School District.
Nearly 200 residents, parents, students and staff responded to the online survey, which was conducted in English and Spanish for two weeks starting in late February. Superintendent Terry Metzger briefed trustees on the results at their monthly board meeting Thursday night.
The priorities are established each year as part of the Local Control and Accountability Plan (LCAP), mandated by the state for every district. The goals are formed with input from the community.
For this school year, Denair's priorities are:
Increase the high school graduation rate
Attract and retain highly effective staff
Implement state standards
Provide intervention and enrichment for students
Accountability and transparency
Engage the community
Safety and facilities
No less than 68% of respondents agreed with every goal. The highest favorable rating (81%) was for increasing high school graduation rates, which is interesting in that Denair High routinely ranks among the top in the state with a grad rate of 95% or higher.
The next highest positive response was for intervention and enrichment, which Metzger interprets as "providing support for kids who are struggling and pushing high achievers."
Safety and facilities ranked third at 79%, with most of the concerns about Denair Elementary Charter Academy, where a unique layout in relation to the district office offers multiple points of access. Trustees were told Thursday there are plans to erect additional fencing so that all visitors will have to check in at the main office to enter the campus, as is the case at Denair Middle School.
The survey asked additional questions about improving attendance, better preparing students for high school and college, and increasing parental involvement in their children's education. The results will be posted on the home page of the district's website next week.
The LCAP process for the 2019-20 school year already is under way. There will be one more community meeting in early April for people to weigh in. The resulting priorities are used to build the next LCAP as well as the 2019-20 district budget.
Metzger said she appreciates the feedback. The district has a system to help it evaluate which goals to pursue.
"Does the community want it? Should we do it? Can we do it?" she said. "In other words, is it desirable, is it viable and is it feasible. The things that meet all three are the ones we should be doing."
Many of the suggestions given by survey respondents are already in place or in the beginning stages of implementation. "We definitely want to promote what we are already doing," said Metzger, "but we also want to investigate concerns and questions that were raised in the comments."
In other action, trustees:
Approved a $155,607 contract with the Stanislaus County Office of Education for the 2019-20 school year to provide a range of business and education services.
Accepted a bid of $107,950 from Pro-Ex Construction of Rancho Cordova to paint the exterior walls at Denair Charter Academy and the nearby bus shed. Trustees also heard a report about many other facilities projects, including the installation before the next school year of additional security fencing at DECA. These projects will be paid from restricted maintenance funding.
Heard the second interim budget report from Chief Business Officer Linda Covello. She reported that projected average daily attendance (ADA) is 1,208, an increase of five from the fall based on higher attendance rates at most campuses. Covello expects the district to end this budget year in June with $2.7 million in cash and slightly more than that the following year. Enrollment is forecast to grow by 3% next year and 1.5% in 2020-21.
Extended a memorandum of understanding with the California School Employees Association for three more years that allows the district to outsource transportation to Storer Bus Lines. Storer has provided two daily routes serving about 100 students for the three years.
Listened to a report from DCA Principal Breanne Aguiar and two of her instructors about preparations for the upcoming accreditation visit. Officials from the Western Association of Schools and Colleges (WASC) will be on campus April 7-10. DCA staff has been through an intensive self-study process to identify strengths as well as identify and respond to areas for improvement. Their hope is to receive a six-year accreditation, as Denair High did last year.
Received an update from Metzger about technology in the district. Key initiatives include Chromebook activity monitoring at DMS that allows teachers to see their students' screens, installation of an audio system in the DECA language lab, three classes piloting 70-inch LCD displays to replace projectors and a plan next fall for all DCA students to have Chromebooks they can take home.
Voted to open negotiations on a successor contract with the Denair Unified Teachers Association for 2019-22.
Approved a trip for football players to the Disneyland and California Adventures theme parks June 25-28.
Agreed to the formation of a Garden Club at Denair Middle School. It will meet weekly after school to engage students in gardening practices as they apply to biology, earth system and engineering methods to promote campus beautification and planting management.