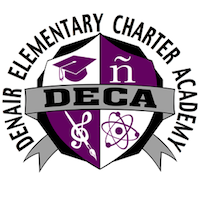 Submitted by Denair Elementary Charter Academy
There is still time for parents to register their children in dual language immersion kindergarten, traditional kindergarten and transitional kindergarten at Denair Elementary Charter Academy for the 2019-20 school year.
Packets with complete registration information are available at the DECA office at 3773 Madera Ave., Denair. Anyone with questions should call (209) 632-8887.
Completed applications must include a copy of the child's birth certificate, updated immunization records and proof of residency (such as a utility bill).
Incoming kindergartners must turn 5 by Sept. 1. Children who turn 5 between Sept. 2 and Dec. 2 are eligible for transitional kindergarten. All parents also are required to attend a mandatory orientation meeting if they are enrolling their children in the dual language immersion program.