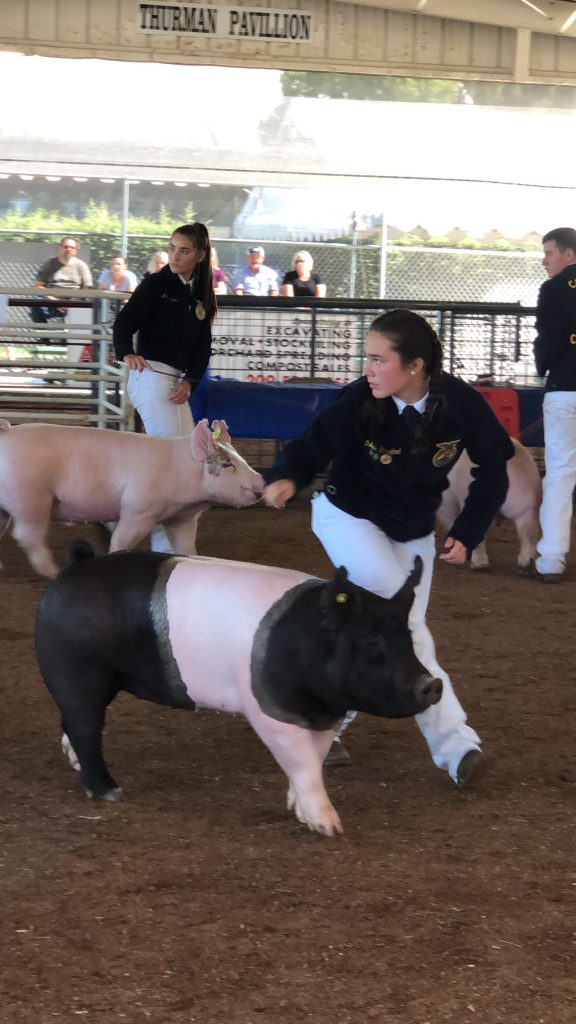 TURLOCK – Dakota Rutherford is getting to be pretty good at this fair thing.
In 2018, as the youngest competitor in her class, Dakota walked away with two ribbons for her market Hampshire hog. She hadn't even started eighth grade yet, but was up against mostly high school students.
At this year's Stanislaus County Fair, the Denair High School freshman-to-be backed up her accomplishment, again finishing second in her market division with her 253-pound Hampshire hog Dolly Porkton. She also was fifth in intermediate hog showmanship.
"I don't know," said Dakota when asked about her success with pigs. "I just love them. They're the sweetest animals."
That affection doesn't get in the way of the undeniable truth when it comes to all market animals at the fair. Today's cute hog, steer, goat or other market animal is soon to be someone else's meal. As the fair winds down this weekend, the market auctions always provide a stark finality to months and months of care and devotion by Dakota and her other Denair FFA members.
"I'll sell her and she'll be processed," said Dakota matter-of-factly.
"She won't admit to it, but it still hurts a little," said Denair ag teacher Holli Nielsen.
Dakota may not be sentimental, but she draws the line at actually eating an animal she has raised – though it almost happened last year.
"My uncle bought my hog," she said. "We were on a houseboat and he said he was making sausage from her. I passed."
Dakota was among 21 Denair students who entered animals this year in livestock competitions involving dairy and beef cattle, goats, sheep and swine.
In addition, more than 60 entries were submitted by Denair FFA members in the horticulture and floral barns, with impressive success. Denair's floral entries were awarded 56 first-place ribbons, including a Best of Show in silk flower arrangements for Makena Padgett. Denair's succulents won five more firsts and two of its fairy gardens earned blue ribbons. The Coyotes also received third place for their 10-foot by 20-foot plot.
"My students are the best," said floral adviser Taylor Doo.
In ag mechanics, senior Brigg Wenstrand and junior Haley Hultgren both won first-place awards for the double-stacked planter boxes that each built. Connor Prock, Nicole Johnson and Caleb Krieger all won blue ribbons for their electrical circuit wiring projects.
Recent graduate Cayden Carranza and senior Noah Helms both entered orchard nut crowders they built; Cayden finished first and Noah second.
"They're very hard to build," said Doo of the nut crowders, used during harvest. "You have to get all the angles just right."
Doo credited ag teacher John Hultgren with advising Carranza and Helms. "He makes them do all their planning themselves. They had to grid everything out and do all the welding."
One of the neat comeback stories this summer involved senior Jacob Lewellen. Last year, he lost his market goat to a staff infection just before the fair began. This time, he worked hard to prepare his 110-pound goat Kota, even exercising it by harnessing a small sled to its back to pull around the Denair High track.
The extra effort paid off with a fourth-place finish in the market goat category.
"He implemented his own research, a Sunglow feeding plan, developed a meticulous exercise regime and spent countless hours dedicated to prepare his animals for the market show," Nielsen praised. "He has shown tremendous resilience and accountability in his entire supervised agriculture experience project this year and I am incredibly proud of his accomplishments."
In the livestock categories, Nicole Mundello was second in novice beef showmanship and third in summer yearlings, Conner Prock was second in intermediate beef showmanship and in spring summer yearlings, Hultgren was second in late junior yearlings, Haley Silva was third in novice dairy grade showmanship and eighth in winter dairy calves, and Blain Cole was 10th overall in sheep showmanship.
Cole is a veteran of the fair, having shown for seven years. He's a senior and will serve as Denair's FFA president this year. He said his classmates often ask his advice before they show their animals.
"They ask me what I think," he said. "I tell them what they're doing well and what they need to improve on."
Sophomore Thomas Guzman and his market goats – which he breeds himself — didn't win, but he said he walked away with valuable experience and an idea of what to do next year.
"I had the same judge as I had last year, so I kind of knew what to expect," Thomas said. "He didn't like their udders. It's just genetics, so I'm going to change who I mate them with."
"In the future, he's going to do artificial insemination," Nielsen explained. "He's got a whole breeding plan." Added Thomas: "My goal is to produce quality breeding stock and market animals. I'm going to do it."