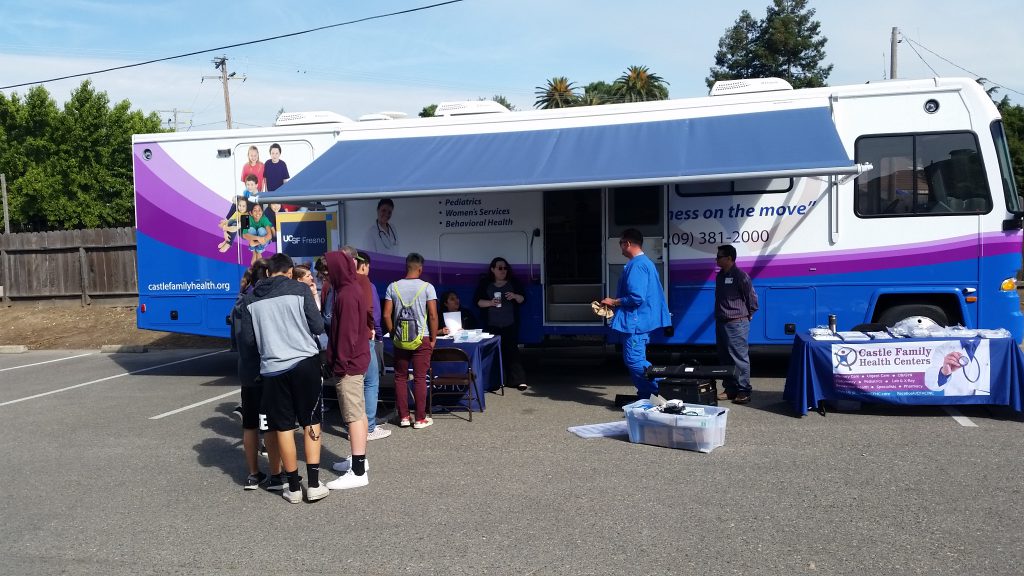 Submitted by Denair Unified School District
A mobile medical unit will return to the Denair Unified School District on Wednesday, July 31 to offer free care to all students.
Immunization shots, sports physicals, and primary and basic health screening all will be available from 9 a.m. to 3 p.m. thanks to a partnership involving local health providers. In May, more than 150 Denair students took advantage of the service.
The mobile health RV will be parked near the Coyote Center on the Denair Middle School campus. July 31 coincides with Coyote Call – the day high school and middle school students come to school to pick up their schedules, join clubs and sports teams, meet advisers and coaches, and buy yearbooks.
"Since they will already be on campus for Coyote Call that day, this is a great way for families to get medical needs addressed at no charge," said Terry Metzger, Denair's superintendent. "Families will be able to complete many of the items on their back-to-school checklists: sports physicals, immunizations and general health care. We are grateful to our community partners for making this happen in Denair."
The van is owned by Castle Family Health Centers in Atwater. It will be staffed by Castle nurses and medical assistants along with medical residents from the UCSF Fresno training program.
Underwriting the cost of the free medical care is Legacy Health Endowment, whose mission is to provide financial and technical support to improve the health of people living in Stanislaus and Merced counties. The nonprofit was created in 2014 as part of Tenet Healthcare's acquisition of Emanuel Medical Center in Turlock.
Parents must fill out permission slips ahead of time allowing doctors, nurses and dental professionals to treat the students. Packets that include permission slips and more information will be mailed to all students' homes. Jeffrey Lewis, the CEO of Legacy Health Endowment, said the goal of the medical clinic is to "keep kids healthy and help parents understand that they don't have to pay for health care, that we can use charitable dollars to help families access free medical care."