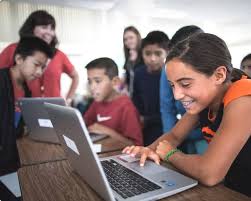 Submitted by Denair Unified School District:
There are options for families in the Denair Unified School District who need Internet access so their children can participate in distance learning.
The California Department of Education has created a link to information about free or low-cost Internet options for families. Those interested also can click on the following links to learn more about specific Internet providers.
Denair joined 24 other Stanislaus County school districts in closing its campuses March 19 because of the coronavirus pandemic. Initially, it was hoped that classes could resume April 20 after spring break. Health officials pushed that date back to May 4 and then last week announced schools would not re-open during this school year.
Teachers on Denair's four campuses sent enough printed and online enrichment work for students to last through this week. In a letter Friday to all Denair families, Superintendent Terry Metzger said the district now is transitioning to distance learning for more than 1,300 students after spring break.
To do that requires Internet access at home, something not all families have.
"Now that we know schools will be closed until the end of the school year, teachers and staff are preparing distance learning for the remainder of the school year," Metzger wrote in her letter. "This work will be delivered electronically or through pick-up/delivery. Each school will communicate the specific details for their students, but parents should expect work beginning April 20."

Denair teachers have reached out via phone and email to gather information from families and identify any academic or technology-related needs. Metzger said families who do not have computers at home will be allowed to check out a Chromebook for each student who needs one "to facilitate the use of online resources."

The superintendent said each family's situation will be evaluated independently.
"We know that everyone's health situation may change over the course of the last five weeks of school and we want to be sensitive to that," Metzger wrote. "Know that we care deeply about our students, families, and community. We don't want distance learning to be more stressful AND we want students to keep learning!"
She said students aren't "expected to 'do' seven hours of school for distance learning."
"They'll likely get through their daily lessons in a much shorter period of time, so feel free to break it up into blocks of time throughout the day or week," Metzger recommended.
She advised parents to contact teachers or principals with any questions. The district can be reached by phone at 632-7514 or by email at dusd@dusd.k12.ca.us.