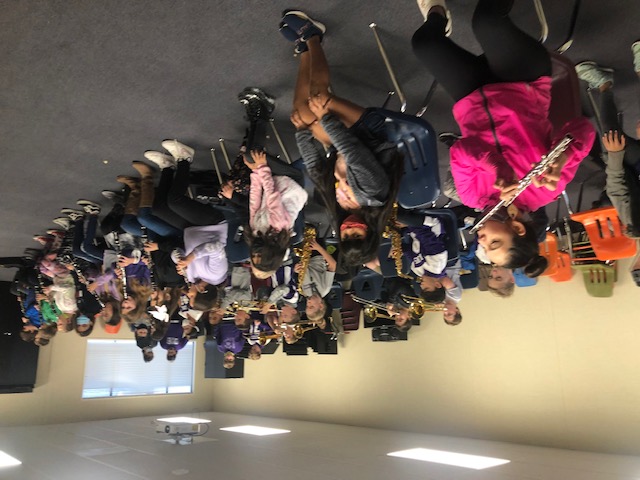 Fred Steiner has a dream. As the music teacher for all of the Denair Unified School District, he imagines a day when there is a marching band to play at football games, a pep band to appear at rallies and other events, and dozens and dozens of students tapping into and developing a creative gift they never knew they had.
With only 12 students in the music program today at Denair High and just more than twice that at Denair Middle School, Steiner's vision may seem like it's a long way off.
But what gives him hope are the 45 fifth-graders taking beginning band this year. Those youngsters – who are learning to play clarinets or blow saxophones, trumpets and trombones or keeping the beat on percussion – are the foundation upon which Steiner intends to build Denair's musical program.
No doubt, COVID has impacted Steiner's ability to foster a music culture since he arrived in the summer of 2020 from Southern California. It's tough to teach a child to play an instrument via distance learning, which Denair was on from March 2020 through most of the last school year. But a lack of continuity among music teachers has also had an impact. Steiner admitted as much at a recent meeting of the school district's Board of Trustees.
"I only had two eighth-graders playing instruments last year," he said. "I was wondering why there were only two or three kids per grade level. I asked an eighth-grade trumpet player what happened. He told me that when he was a fifth-grader, there were 45 kids in band. So, I think part of it's because I'm the third music teacher he's had since the fifth grade.
"My message to the board was that it doesn't look too impressive today, but we've got 45 at fifth grade and that's the light at the end of the tunnel. We must retain them. That's our future. We basically need to have some continuity around here and keep the same teacher for more than two years in a row. If we do that, we'll be flourishing."
If anyone can engineer such a turnaround, it would be Steiner. As the district's only music instructor, he energetically bounces between the high school, middle school and elementary campuses every day. He spends 90 minutes each morning at Denair Elementary Charter Academy teaching 350 second- through fifth-graders for 30 minutes at a time. The lessons focus on the fundamentals of music – rhythm and beat, tempo and pitch. He uses sticks and bells and clapping – even dancing – to engage the youngsters. Singing – because of COVID – is less frequent than it otherwise might be.
"I try to get them up out of their seats. It's good to get kids moving," he said.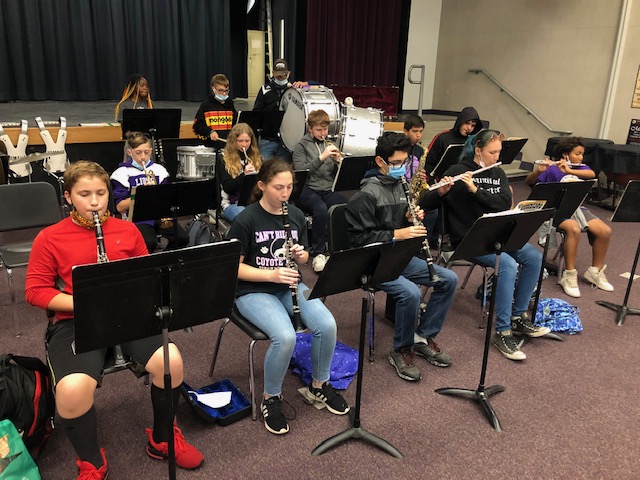 Introducing younger children to music also supports Steiner's long-term goal.
"The more I contact these kids and their parents at an early age, the more I can convince them that music is something they want to do," he said. "I get know every kid."
By fifth grade, most children are big enough that band instruments can be introduced. This year's beginning band includes about half the fifth-graders at DECA.
"I wasn't sure what to expect, but it was right at my goal," Steiner said. "How many will stay with it at DMS? I'm working my butt off and really focused on — above and beyond anything else — making good choices to reduce attrition. You're going to have some (losses) for a number of reasons. But all things being equal, I ought to be able to hold on to 75% or 80% of them reaching high school."
In four years, this year's beginning group of fifth-graders will be Denair High freshmen. If Steiner can keep 25 or 30 of them involved with music – and then keep it going year after year – his dream of building a vigorous, thriving music program that includes a high school marching band will be realized.
In Palos Verdes – where Steiner came from – he had what he calls a "high-powered high school band" for 17 years. Replicating that in Denair is years away, which Steiner acknowledges. It also means competing for kids' time against other extracurricular activities like sports, FFA, drama and speech.
"Let's say half of the kids starting this year make it to sixth grade next year. We'll have a legitimate sixth-grade class," he said. "In three years, we could have 80 kids in middle school band. Right now, we have 30. … In seven years, there should be 100 kids in the high school band."
Steiner knows that achieving his dream will be a team effort. Elementary teachers who engage kids with singing and dancing can help inspire a love of music. Guidance counselors such as Elise Domico at DMS and Brittany Heinsaar at DHS also can steer students toward music electives.
"Real leaders, especially in education, have a long-range vision," Steiner said. "If we can stick with it, the results are almost impossible to mess up. … We're moving in the right direction. Want the kids to have a quality experience and teach them well. We're on the right track. We've just got to stay the course."