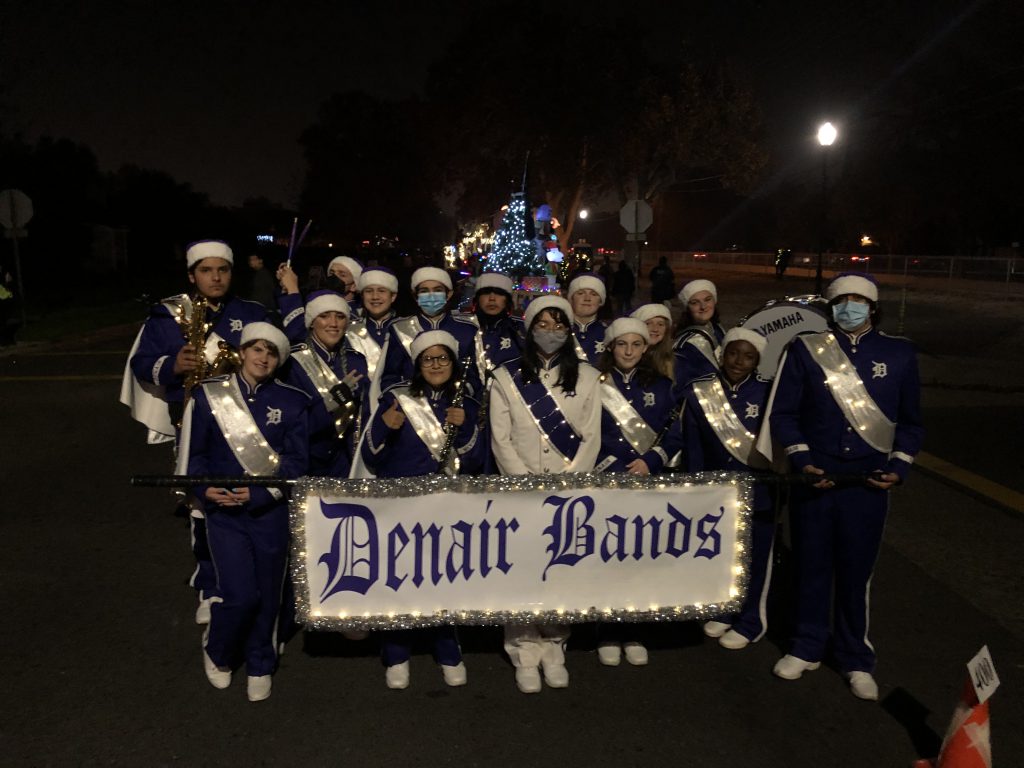 The Denair High marching band may be small, but it still is mighty.
With only 15 musicians – including four from the middle school – the marching Coyotes are dwarfed in size by a typical high school band. But what they lack in numbers, they more than make up for in energy and enthusiasm.
So when band director Fred Steiner signed them up last month to appear in the annual Turlock Downtown Christmas Parade, the young musicians embraced the challenge. With barely a month to prepare for last Friday's parade, Steiner and his students met weekly after school to practice and get used to the coordination needed to walk in formation while playing an instrument.
"There was no choreography, but there's definitely a skill to marching and playing," Steiner said.
So what was his assessment of Friday's performance?
"It went as well as anyone could have hoped it would go," he said Monday morning. "I believe the kids had fun. The only remark I heard in the aftermath was, 'Wow, that was a lot of work.' In my view, that's a good thing."
The parade route snaked through downtown Turlock and eventually wound up after a mile and a half at the Stanislaus County Fairground. At various points, Steiner said fans were lined up 20 people deep.
The Denair band basically rotated through two songs – a drum cadence to keep everyone in step and the crowd engaged, followed by an arrangement of "Jingle Bells." Steiner estimates the students played the song at least a dozen times in the 40 minutes or so it marched.
The band – including two seventh-graders and two eighth-graders – featured woodwinds, saxophones, a couple of trumpet players and two drummers, plus someone jingling bells.
Steiner is a marching band veteran. His teaching career includes leading high school bands in Southern California with 70 or more members playing in major events, including the Orange Bowl Parade in Miami.
"Honestly, I have done so many parades in my career – some small, some big," he said. "I always say things are going to come up and you roll with it. But nothing came up. The kids did exactly what was expected. There were zero issues."
It was actually the second time this fall the band has performed. It also appeared in the Denair Homecoming Parade in October.
Steiner has a vision to rekindle a band tradition at Denair High. As the music director for the entire 1,300-student district, he already has embarked on a mission to introduce music to every child – with a larger goal of creating a marching band with 40 or more musicians.
Monday morning, he already was receiving positive feedback from his elementary students who attending the Turlock parade on Friday night and proudly watched as the Denair band marched by.
"That bodes well for us building excitement and enthusiasm for band in Denair," Steiner said.
What's next for the band members? Steiner has plans for an indoor concert in late January. And he said Denair will have a pep band for at least five varsity boys basketball home games after the first of the year.